Dr. Carrie Adams
Associate Professor / Restoration and Plant Ecology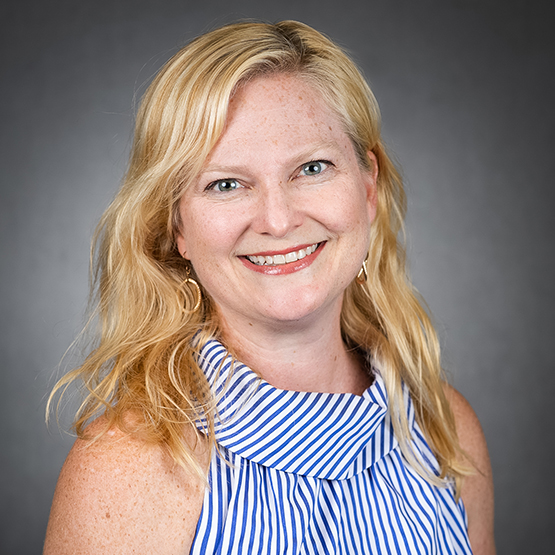 Dr. Adams researches restoration of degraded ecosystems, and particularly the transition from invasive species dominance to native species establishment. Through collaboration with ecologists in other disciplines and cooperation with land managers, her work focuses on scaling-up experimental manipulations to become application in natural resource management. Dr. Adams is affiliated with the Water Resources Institute, the School for Natural Resources and the Environment, and teaches courses on ecological restoration in her home department and for the School of Forest Resources and Conservation.
RESEARCH

Our research focuses on plant ecology and restoration of ecosystem structure and function, including the establishment of native plant communities and invasive plant management. Our work takes place in wetlands and aquatic habitats, terrestrial ecosystems and cultural landscapes such as roadsides.

Decision making for revegetation

Decisions about sourcing plant material for conservation and restoration should be based on science and linked to restoration goals, which typically target some ecosystem function. Examples of goals may include rapid plant establishment, long-term persistence, resistance to invasion, or some suite of pre-specified ecosystem functions. Propagule type, species selection, source location and level of genetic diversity all confer population-level traits to the restored population, and need to experimentally tested prior to broad application in restoration practice. We have been exploring these issues across ecosystems, and specifically in invaded wetlands and coastal dunes.

Invasive species management

Research on invasive ornamental management is conducted in collaboration with Dr. Sandy Wilson and Dr. Zhanao Deng. Federally funded projects for invasive plant control and post-control vegetation management projects have focused on Ruellia simplex, a popular ornamental in the southern United States, Phragmites australis, a cosmopolitan invader in salt marshes, Phalaris arundinacea, a northern temperate freshwater marsh invasive grass. and active revegetation with native species.

Restoration of native plant communities in altered environments

Barriers to native plant establishment include invasive species, altered biotic and abiotic site characteristics, and propagule limitation. The goal of this research is to determine efficient and ecologically-sound techniques for revegetation of native plant community diversity and function. Assessments of the composition of the seedbank and the potential for recolonization of the native plant community have been focused in a variety of locations, including the Florida Panther National Wildlife Refuge marl prairies, Lake Apopka North Shore basin marshes, and semi-urban riparian forests in the City of Gainesville. We have also studied keystone species (Uniola paniculata, Juncus roemerianus, Sabal palmetto) to provide guidance on revegetation efforts based on their natural distributions and plant provenance.

Adaptive Management

Developing effective approaches for managing invasive species can likely be advanced through an adaptive management (AM) framework, i.e., one where management decisions are improved over time because they are based on an enhanced understanding of the system gleaned from periodic monitoring, structured experimentation and modeling. Past projects have focused on the control of reed canary grass (Phalaris arundinacea) the recovery of these impacted ecosystems after its removal.

TEACHING

EVR 3323/HOS 6932 Introduction to Ecosystem Restoration

This graduate and undergraduate co-offered course is an introduction to habitat restoration with a focus on Florida and the Southeastern coastal plain. Students will develop an applicable understanding of restoration theory and planning, disturbed land reclamation, wetland and river restoration, invasive species control, community involvement in the restoration process, and related topics. Throughout the course, students will become familiar with the latest research on native plant selection, establishment, and maintenance for restoration purposes. Offered live in Gainesville every Spring semester.

Online Professional Graduate Degree Program in Ecological Restoration

A team of faculty from UF, Florida A&M, and Alabama A&M have partnered under the USDA Challenge Grant Program to develop a Professional Masters Degree Program in Ecological Restoration. Dr. Adams has developed two courses to support this program.

FOR 5157: Principles of Ecosystem Restoration

Biophysical and socioeconomic theories and principles that help restore functional ecosystems, evaluation, and monitoring protocols. Virtual tours of successful restoration projects, ecological and sociological principles being utilized, interviews with professionals, managers, local citizens and scientists, and a project in which students interact with local restoration project personnel will complement online lectures and chat rooms. Offered online every Fall semester.

HOS 6070: Plant Materials for Restoration and Conservation

Proper plant selection, propagation, production, and establishment of native species crucial for ecosystem recovery and efficient use of sparse restoration funds; species and genotype identification; propagation and production of native species; and biological mechanisms behind efficient establishment methods for native species. Offered online odd Summer semesters.

Other teaching activities: Dr. Adams serves on multiple Peer Teaching Assessment committees, is a member of the Environmental Horticulture Graduate Committee, and contributes to the Plant Science Native Plant Conservation curriculum development. She also mentors undergraduate research students, including Plant Science Capstone students, University Scholars, and CALS Honors Undergraduate Scholars.

EXTENSION

The emphasis of our program is to provide relevant research-based information that improves the success of ecosystem restoration. Our clientele include university faculty, native plant nurseries, restoration practitioners and natural resource managers. We strive to connect the horticultural industry with those in the restoration field to promote information exchange on plant availability, selection, propagation, and establishment.
EDUCATION

Ph.D. University of Minnesota, Water Resources Science 2004
M.S. Pennsylvania State University, Interdisciplinary Ecology 1999
B.S. Pennsylvania State University, Environmental Resources Management (January 1997)
352-273-4502
rein0050@ufl.edu
Environmental Horticulture
University of Florida
PO Box 110670
Gainesville, FL 32611-0670