2008 Orion
Graph shows projected plant heights during production of the crop. Dots are plotted actual height each week. Arrows indicate when PGRs are applied with details in the weekly notes. We use the "late" graphical tracking curve and heights are from bench to height of growing tip. Heights are plotted from date of pinching to projected date of finish.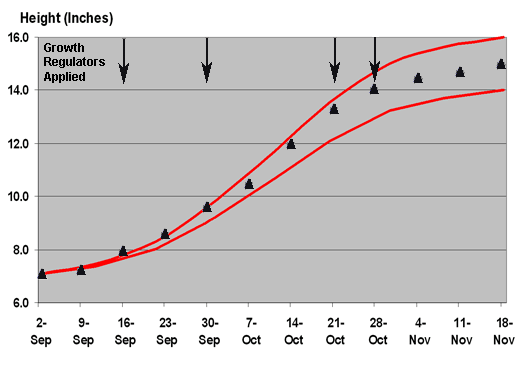 Notes
11/18
This group of Orion Red looks very good and has finished at 15". The early sprays to help even out shoot elongation worked fairly well. The split application of the late Bonzi drench with 0.5 ppm on 10/21 and on 10/28 was successful in controlling height with minimum effect on bract size. This is a good example of how to handle a crop where the height control is needed, but bract develop is not advanced enough for a full late drench application.
11/11
We thought this crop of Orion would be finished this week, but only 10% are showing pollen. They will look good with another week of development.
11/04
This crop of Orion looks good and will finish a week early.
10/28
Last week we drenched these Orion at the rate of 0.5 ppm, which is one-half the normal late Bonzi drench rate. This week we are applying Bonzi again at 0.5 ppm. We expect these plants to finish at 15-16 inches. They should finish in about 2 weeks.
10/21
This Orion crop continued strong growth this past week and we do not want them to continue at this pace. We have decided to split the late drench into two applications. This week we are drenching with Bonzi at 0.5 ppm, which is half of the standard late drench rate. We will repeat this if needed in 7-14 days. The objective of the split application is to have less effect on bract size, since we are just a little early for the late drench. Also these plants can grow 2 inches and still be fine, so we do not have to stop elongation now.
10/14
These Orion plants are doing fine and showing color now. We plan to apply a late drench when they are between 13 and 14 inches.
10/07
The shoot tips of the upper laterals on this Orion crop are compact and showing control from the sprays. If we continued spraying the plants could end up short. So we will let this crop go and see if we need a late drench in 3-4 weeks. These plants look like they will be showing color next week.
9/30
Our spray on this crop of Orion two weeks ago was designed to slow elongation of the upper laterals. This crop is not too tall, but to help with uniformity we are spraying this week with B-Nine and Cycocel at the low rate of 1,000 each.
9/23
The spray made last week is working and the longer upper shoots are slowed some. We are not spraying now, but expect to make another application next week.
9/16
These plants are exhibiting a tendency for the upper laterals to elongate faster than lower ones. Florel applications are often recommended on Orion to reduce that tendency. This crop was not sprayed with Florel. We are spraying this week with the medium rate of B-Nine/Cycocel tank mix (1,500 B-Nine and 1,250 Cycocel). We opted for a spray because we feel that one or two sprays will help even out the lateral growth better than will drench applications in this situation.
9/09
These Orion are fine this week.
9/02
Orion Red is an important early flowering variety and we expect it to finish a little earlier than the November 18 date used in the graph. These cuttings were a little taller than other varieties in these examples, so the pinch height is a little higher. This should not cause a problem.