2008 Prestige Early Red - Delayed
Graph shows projected plant heights during production of the crop. Dots are plotted actual height each week. Arrows indicate when PGRs are applied with details in the weekly notes. We use the "late" graphical tracking curve and heights are from bench to height of growing tip. Heights are plotted from date of pinching to projected date of finish.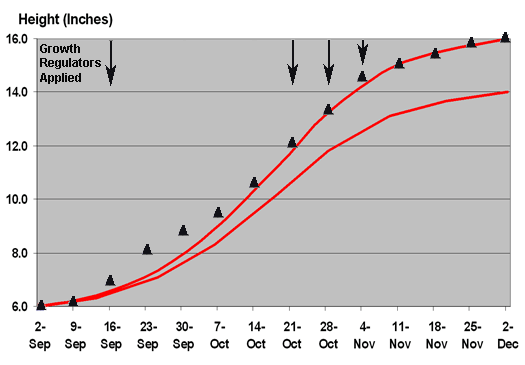 Notes
12/02
Flowering was delayed in this crop of Prestige Early by using lights until10/3, which was same as used in 2007. We applied a little more PGR on this delayed crop compared to last year. This short day date makes the Prestige Early a little later than Prestige Red on natural days. Lighting to about Sept. 28 or Oct. 1 would make the crop a little earlier and reduce amount of PGR needed.
11/25
This crop should be ready next week.
11/18
This delayed Prestige Early crop looks like it is on schedule to finish in 2 weeks and will probably finish at 16".
11/11
This crop of delayed Prestige Early is on schedule for finishing in 3 weeks. The past 3 weeks, we have applied a considerable amount of PGR. We have decided to not apply more PGR. The plants are strong and if they finish a little tall they will be fine.
11/04
This crop of delayed Prestige Early is showing the effect of the longer vegetative growth time it had compared to the two natural day crops. These plants are showing good color and should finish on schedule. We are applying a Bonzi drench at 0.5 ppm this week. This combined with the two previous drenches should slow the crop down. We did not use 1.0 ppm because of the lower vigor of Prestige Early and because of the mild weather.
10/28
This crop of delayed Prestige Early continues to grow a little more than expected. We are again applying a 0.1 ppm Bonzi drench this week. About 25% of this crop is just starting to show first color.
10/21
This crop of delayed Prestige Early grew a little more than we expected this past week. The plants look good. We decided to do a 0.1 ppm Bonzi drench this week. With the mild weather and the way Prestige Early responds to Bonzi, we expect this to be the last PGR application on this crop.
10/14
This group of Prestige Early Red is growing out of the drench applied earlier. We will probably apply another low-rate Bonzi drench in about two weeks when the plants are about 13 inches.
10/07
Our decisions to not retreat this crop the past couple of weeks seem to have been correct as height is now back to the desired height range. Long day lighting was stopped on Oct. 3 and plants are now on natural days.
9/30
This crop slowed down this past week. We are not treating again this week to guard against reducing elongation too much. If this were a more vigorous variety we would probably have made another drench this week.
9/23
This crop is in a different greenhouse because they are getting lights and are growing faster than the Prestige Early plants in the other examples. We are not applying a PGR this week since Prestige Early is less vigorous. It is still early in the crop and there is adequate time to achieve the control we want.
9/16
These plants are getting off to a fast start and look good. The crop should not be difficult to control, but we are doing an early drench this week with Bonzi at 0.1 ppm. It probably would not make much difference in the finished crop if this drench were applied this week or next week.
9/09
These plants are starting out fine.
9/02
Lights will be used until 10/3 to delay this crop of Prestige Early and it should finish about Dec 2. We did a similar example in the 2007 examples and it was very successful.