2008 Prestige Red - Drench
Graph shows projected plant heights during production of the crop. Dots are plotted actual height each week. Arrows indicate when PGRs are applied with details in the weekly notes. We use the "late" graphical tracking curve and heights are from bench to height of growing tip. Heights are plotted from date of pinching to projected date of finish.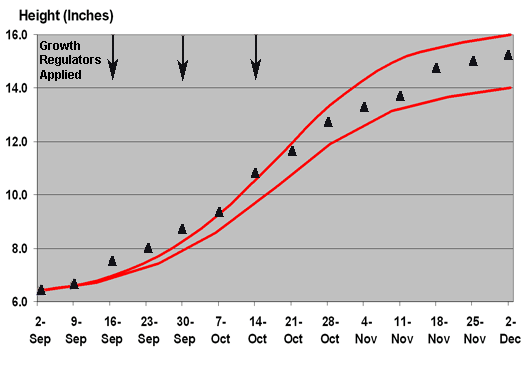 Notes
12/02
This Prestige Red crop looks very good and the 3 early Bonzi drench applications at 0.1 ppm provided good size control. Compare the Bonzi use on this crop to the 2007 Prestige Red treated with early drenches to see difference in a cool year and a warm year.
11/25
These Prestige Red are ready now and ahead of schedule.
11/18
This Prestige Red crop looks good and the 1 inch of growth this past week was not anticipated. The weather has been so cool that we have raised the day time temperature in this greenhouse to avoid slowing down some of the later crops that are not in these height control examples. This is likely the reason for the growth we got this week. This crop looks like it will be ready a week earlier than expected.
11/11
We are letting this crop of Prestige Red go and expect them to finish a little over 14 inches.
11/04
These Prestige Red also slowed down more than expected this past week. However, they are a little taller and they should make the desired height in a couple of weeks.
10/28
This crop of Prestige Red is slightly taller than the other group and we may need to do the late drench earlier on these plants.
10/21
We are also in good shape with this Prestige Red group. Now we will see when the late drench is needed.
10/14
This crop grew more than we expected this past week. We are applying another early Bonzi drench at 0.1 ppm and will see how the crop progresses.
10/07
These plants were drenched last week and look good now. They will probably be near bottom of curve next week and we do not anticipate height problems for at least the next 2-3 weeks.
9/30
This group of plants grew a little more than other crops this past week. We could have waited another week, but we decided to drench this week with Bonzi at 0.1 ppm.
9/23
This group of Prestige Red did not elongate as much as the other group this past week. We are not treating these plants this week.
9/16
As with the other Prestige Red crop we are making the first PGR application to this crop this week. An early Bonzi drench is being applied at 0.1 ppm.
9/09
Like the other Prestige Red crop we will see where this crop is next week.
9/02
Similar to 2007 we will have two crops of Prestige Red with one receiving sprays early and the other being drenched with Bonzi early. This is the one that will be drenched with Bonzi.