Home > Nursery tree production > Root system > Field production
Field production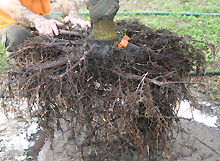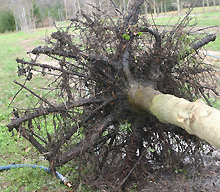 Quality root systems have many straight roots.
There are many methods of producing trees in field soil. In southeastern US trees are typically planted, irrigated, and root pruned in place without moving trees until digging for sale. In contrast, nurseries in many other parts of the country move trees from one field to another at least once. Soils vary from clays to loams to sands. The following will allow you to learn more about each of these topics.
Below is an introduction to root management in a field nursery with updates from recent research.
1

fertilizer and roots

2

irrigation

3

irrigation and roots

4

root extension

5

roots pruned

6

more roots pruned

7

roots without pruning

8

roots with pruning

9

nice root system

10

close up

11

pruned vs. not

12

root pruning strategy

13

root research plot

14

root study

15

study objectives

16

study design

17

treatment descriptions

18

trees excavated

19

roots washed

20

roots compared

21

no root pruning

22

fabric root pruning

23

root weight results

24

more root results

25

transplant survival

26

summer dig survival