2010 Prestige Early Red
Growth Regulators Applied / Height graph
Graph shows projected plant heights during production of the crop. Dots are plotted actual height each week. Arrows indicate when PGRs are applied with details in the weekly notes. We use the "late" graphical tracking curve and heights are from bench to height of growing tip. Heights are plotted from date of pinching to projected date of finish.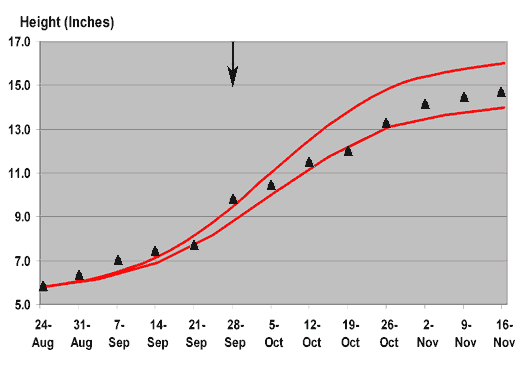 Notes
11/16
This crop of Prestige Early Red has performed much better in this cooler fall compared to the hot fall last year. The crop has finished about a week earlier and less PGR was used. This crop may have finished a little short if it were not for the warm days during the past 3 weeks. We might consider adding a week to the schedule to avoid that potential. Prestige Early is not to vigorous so we could control it in warm fall, even with a longer schedule.
11/09
This crop of Prestige Early Red should finish on time by next week. Elongation is slowing down now, which would be expected for a variety with low vigor like this one.
11/02
This crop has been responding well to the warmer temperatures and will probably finish at 15-16".  The cooler temperatures in September did not delay initiation in this crop and now the warm temperatures are promoting bract development.  So, this crop appears to be finishing ahead of schedule and will likely be as early as we can get Prestige Early to finish under natural days.
10/26
By the end of last week it was evident these plants where growing with the warmer weather so we did not apply the Fascination spray.  Now, we feel better about size of these plants and they should finish fine.
10/19
Growth of this Prestige Early crop is less than we wanted.  Plants are just starting to show color now, which is slightly later than in 2008, a cool year, but about a week earlier then 2009, a hot fall.  So, they should finish about on schedule.  We will look at this crop at end of this week and may apply a Fascination spray then.
10/12
This crop of Prestige Early is in good shape at this point.  There is a good chance they will not need any additional PGR.
10/05
With the generally good weather the past couple of weeks this Prestige Early crop should have initiated on schedule and should not be significantly delayed.  The plants look good and we will see how they develop the next few weeks.
9/28
The Prestige Early have now started more rapid growth, so this week we are spraying B-Nine and Cycocel at the low rate of 1,000 ppm each.
9/21
These Prestige Early Red look good but are staying compact.  We will wait until they start growing before treating.
9/14
This Prestige Early crop looks good and there is not a need to treat it now.
9/07
These Prestige Early Red look good.  Because of its low vigor we will not apply a spray until it has grown more.
8/31
These Prestige Early Red are growing nicely.  We will apply the first spray in 1-2 weeks.
8/24
Prestige Early Red is generally easy to grow.  An issue is heat delay.  Compare development and amount of PGR used in 2009 (a warm year) with 2008 (a cooler year).  We will use B-Nine and Cycocel sprays early as needed and use a Bonzi drench later if needed.