2009 Orion Red
Graph shows projected plant heights during production of the crop. Dots are plotted actual height each week. Arrows indicate when PGRs are applied with details in the weekly notes. We use the "late" graphical tracking curve and heights are from bench to height of growing tip. Heights are plotted from date of pinching to projected date of finish.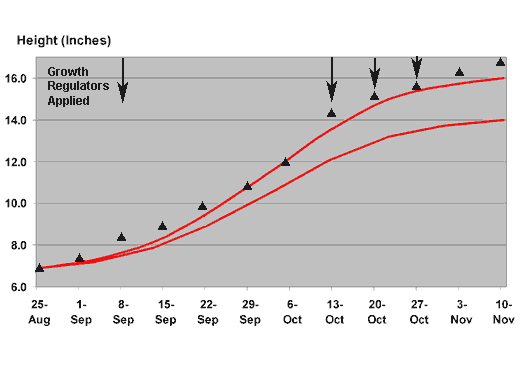 Notes
11/10
This crop of Orion Red were not delayed by the high temperatures this fall and are at about the same stage of development as the '08 crop was on this date. First pollen is just showing on most plants. The plants are well developed and salable now. Orion has the ability to elongate rapidly when temperatures are warm. The 3 drench applications of Bonzi at 0.5 ppm was affective in controlling elongation with a minimum effect on bract size. Orion normally has large bracts and the size reduction is not as noticeable as in some other varieties. The mistake we made with this crop was on Sept. 22 and 29. We should have made PGR applications then so that plant height was at the bottom of the height range in early October. That strategy would have reduced the amount of PGR needed late in the crop.
11/03
This crop should look good next week, but will be about an inch over the target. The bracts are expanding fairly well considering the amount of PGR applied the past 3 weeks.
10/27
These plants have responded well to the Bonzi drench applications the past 2 weeks. However, with the warm temperatures coming for the next week we are concerned that the plants might grow about an inch. We are putting the emphasis on height control and are applying another Bonzi drench at 0.5 ppm.
10/20
Last week we applied a Bonzi drench at half of the regular late drench rate and the crop has slowed down considerably. We are again drenching with Bonzi at 0.5 ppm this week. There is still a chance this crop will finish within the target heights. It does not appear that the high temperatures have delayed color development in this crop.
10/13
The model allowed for about 1.5 inches of elongation on these plants the past week. However, the plants grew over 2" and we will now have to use more PGR than we had hoped to control their size. Orion can elongate fast in warm conditions. Part of the reason for so much growth was that the early drench made on 9/8 is gone now and there was not any chemical in the plants to prevent this stretch. We will now try to finish this crop at 16". There is not enough bract develop to meet our guidelines for doing a late Bonzi drench as described under Growth Regulator Information in the lower left corner of this page. We are applying a Bonzi drench at 0.5 ppm, which is 1/2 the late drench rate. We will apply another drench next week.
10/06
The first hint of color change is starting on these Orion and we should have good initial color by next week. This puts them about on schedule for a 10 Nov. finish. We will probably need to do a late drench in about 2 weeks.
9/29
We are half way through this Orion crop and they are in good shape. We will watch to see how they progress now.
9/22
For these Orion the Bonzi drench applied 2 weeks ago is still slowing elongation and we do not need to do another drench now.
9/15
This group of Orion looks good. We can tell by the appearance of the terminal growth that the Bonzi early drench applied last week is working to slow down elongation. Next week we will see if the effect is still holding the plants back.
9/08
Lateral growth on these Orion is good and we need to slow them down some now to keep them from being a problem later. We are applying an early Bonzi drench at 0.1 ppm. At this stage we could do either a spray or early drench and had decided to use this crop as an example of using early drench treatments from the beginning.
9/01
Orion is doing fine. It can be a little vigorous so we will watch how the laterals come out the next couple of weeks.
8/25
Orion is a popular early variety. This year we are pinching a week earlier than we did in '08. For the height graph we have the crop scheduled for 11/10, which is probably a few days earlier than when plants will actually finish. We will grow this crop using early Bonzi drench applications.