2009 Classic Red
Graph shows projected plant heights during production of the crop. Dots are plotted actual height each week. Arrows indicate when PGRs are applied with details in the weekly notes. We use the "late" graphical tracking curve and heights are from bench to height of growing tip. Heights are plotted from date of pinching to projected date of finish.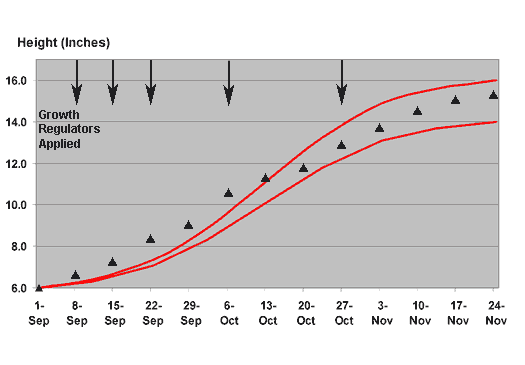 Notes
11/24
This crop of Classic Red is finishing on time and the plants look good. The plants grew quickly after the pinch. The early spray and drench applications were important to prevent laterals from being thin and weak. The plants did not stretch at the end even though temperatures were warm and other varieties were a problem.
11/17
This crop is doing fine and should be in good shape next week.
11/10
We will have pollen showing on these plants by next week and they should be very nice in 2 weeks. We are not doing a PGR application this week. With the cyathia development on these plants and the promised cooler weather, we anticipate elongation to taper off.
11/03
Growth on this crop was where we wanted it for the past week and the plants look good.
10/27
As expected, this crop of Classic Red started growing again this week. First color is showing on all of the plants, which indicates they should finish about on time. We would not normally make a PGR application on plants in this situation. However, we have seen Classic Red elongate too much at the end. Again with our high temperatures, we have decided to drench these plants with Bonzi at 0.1 ppm. If the plants have a strong reaction to this low rate, another drench will not be needed.
10/20
There have now been 2 weeks of slow growth for this group of Classic Red. There are a few plants that are starting to push up shoots, so the crop may grow more this next week. There is not color at this time.
10/13
Classic Red is turning out to be interesting. It responded more than expected to last week's Bonzi drench. Like they did here, Classic Red in other parts of the greenhouse started off fast after the pinch, but is slowing down now.
10/06
These plants have resumed rapid elongation. Because of the vigor this crop has displayed, we are applying an early Bonzi drench at 0.15 ppm. So much for last week's prediction that these "may even be back within the desired height range next week".
9/29
The medium rate of B-Nine and Cycocel applied last week has nicely slowed elongation of this crop. The plants look like they are still under good control and may even be back within the desired height range next week.
9/22
Classic Red is proving to be less sensitive to the PGR sprays than we anticipated. The 2 low rate sprays have not had much effect on the rate of elongation. This week we are applying the medium rate - B-Nine at 1,500 ppm and Cycocel at 1,250 ppm.
9/15
These plants are still elongating and it does not appear the spray we made last week had very much effect. We are spraying again this week with B-Nine and Cycocel at 1,000 ppm each.
9/08
These plants look good, but Classic Red can be vigorous. To guard against too much early growth, we are spraying with B-Nine and Cycocel at 1,000 ppm each.
9/01
Classic Red is a newer variety with long narrow bracts and large centers – thus a more classic look. It is more vigorous than average, and we have seen a tendency for it to continue elongating at the end and finish taller than desired. So we watch for that.