2009 Advent Red - Delayed
Graph shows projected plant heights during production of the crop. Dots are plotted actual height each week. Arrows indicate when PGRs are applied with details in the weekly notes. We use the "late" graphical tracking curve and heights are from bench to height of growing tip. Heights are plotted from date of pinching to projected date of finish.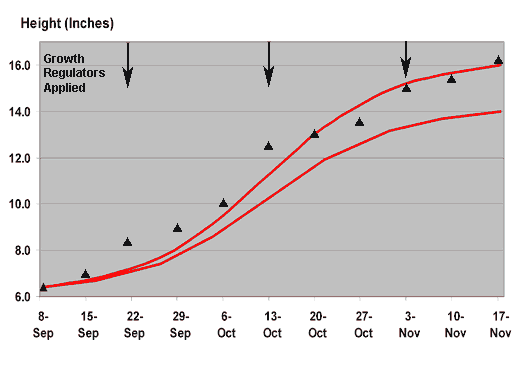 Notes
11/17
This crop of Advent Red was delayed with lights until Sept. 29. Under natural days it will finish the first week of November. Our schedule is off by about a week. There is no pollen showing now and the plants need another week of bract development. Considering the warm fall, this crop has not been too difficult to control. It is a vigorous variety, but is fairly responsive to PGR treatments. With this experience, next year we will aim to have the height at bottom of curve in early October. Due to the naturally smaller bracts, it is best to use a strategy of a little more chemical in the first half of the crop and less at finish.
11/10
Elongation in this crop was slowed with the drench last week. We are not applying more PGR in hopes of getting as much bract expansion as possible. Pollen may be showing by next week, but plants likely will need an additional week to look better.
11/03
For the second time this crop of Advent Red has demonstrated how much elongation it can produce within a week. We are seeing this effect in Advent Red crops under natural days in other areas of the greenhouse. We are also seeing significant bract size reduction from the amount of PGRs being used on the other crops. We are doing a Bonzi drench at 0.5 ppm, and hopefully in combination with the cooler temperatures this will slow the plants down.
10/27
Height of these Advent Red looks good, but we will need to watch how they grow during the high temperatures of the next week. All of the plants are showing color, but they probably will not be fully developed on schedule in 3 weeks.
10/20
Advent Red really responded to last weeks drench and we will have to see how it does from here. The first hints of color are showing and the crop probably will finish on schedule.
10/13
Last week we decided "Since this a new variety, we want to see what they do now and are not treating this week". Ok, so now we know – 2.5" in one week. Another thing we are learning is that you can not go by the compact or "tight" appearance of the Advent shoot tip as an indicator of being under PGR control like you can on most other varieties. We are applying an early Bonzi drench at 0.2 ppm and will see what happens.
10/06
The height of this crop of Advent is much better now compared to two weeks ago. The shoot tips still look compact like they remain under some effect of the PGR spray two weeks ago, but they did grow more than an inch this past week. Since this a new variety, we want to see what they do now and are not treating this week.
9/29
Today is start of short days for this crop. Our Advent Red on natural days in other areas is starting to show first color now. The strong spray last week is giving the control we wanted, and now we will see how long it lasts.
9/22
This is about as much growth you can see in a poinsettia this early in the crop. Advent Red crops in other areas of the greenhouse are doing about the same thing. This crop is a week away from lights out and start of short days. We are being aggressive and applying the high rate spray, which is B-Nine at 2,500 and Cycocel at 1,250 ppm.
9/15
These Advent Red are starting off fine. Because of its vigor, we anticipate starting PGRs next week.
9/08
Advent Red is a strong plant with good vigor. It naturally finishes very early, but this crop will be under long days until 9/29 and should finish about 11/17.