Student Projects for Residential Landscape Design Courses
Teaching Philosophy and Goals
My primary teaching goal is to graduate students competent in solving urban environmental problems through science and art-based landscape design and planning. Socio-environmental synthesis focuses on the complex interaction of humans and the natural environment in urban areas and is the foundation of all teaching activities in my class. Each activity and project is designed to encourage students to find new approaches to solve urban environmental problems. Design is a problem-solving process that requires investigation, critical thinking, analysis, creativity, environmental knowledge, and an understanding of human/social ecology.
Primary Courses
LDE 3410C Residential Landscape Design. LDE3410C focuses on the landscape design process. Core concepts include site inventory and analysis, social norms and landscape behaviors, program development, form development, environmental and functional considerations, planting design, and graphic techniques for design development. Teaching methods include interactive presentations, hands-on tutorials and exercises, desk critiques, student presentations, site visits to observe landscapes, off-campus field trips, and landscape design projects for residents in Gainesville and surrounding communities.
LDE 4404C Advanced Residential Landscape Design. LDE 4404C builds on the basic design concepts and integrates social and cultural issues, such as aesthetic quality, biophilia, place-making and human well-being with environmental issues using sustainable practices and new green technology. The goal is for students to understand and integrate sustainable practices in the design process. The class also uses UF green spaces and cultural buildings as teaching sites, and off-campus field trips to neighborhoods, landscape companies, and professionally designed projects. Projects include design for homeowners and design and installation of teaching/learning landscapes on the UF campus.
Class Design Projects
Students in both classes have created landscape designs for approximately 30 different homeowners in Gainesville and surrounding towns. The students meet at the home and interview the clients to learn more about their needs and wants. They do a site inventory and analysis, taking notes on a base map about the existing conditions. In the studio they spend 4 weeks creating their designs where they are given feedback in desk critiques. After the designs are completed they are sent to the homeowners and a final design is created using the best ideas from the student designs. The ten sample projects show a variety of designs done by students. The Monaghan residence plans show two designs by different students to illustrate the variety of work students create for one site.
---
Student Residential Designs
HARMON RESIDENCE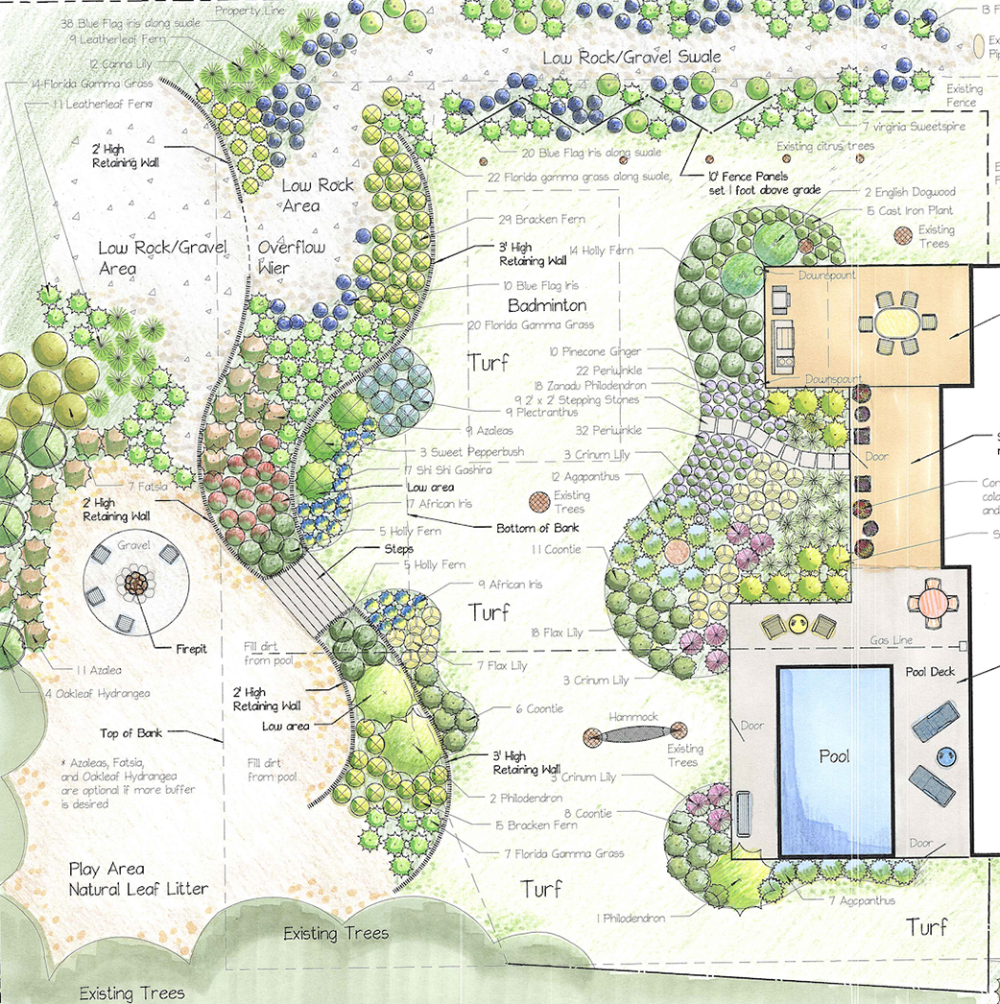 The Harmon residence plan included a pool, turf area for badminton, a fire pit gathering area, and retaining walls with a rock swale to control stormwater flows.
---
LORIA RESIDENCE
The Loria residence is a mid-century modern house with a pool. This student plan included an additional patio space next to the pool deck and retaining walls with planters on the slope.
---
MACEDO RESIDENCE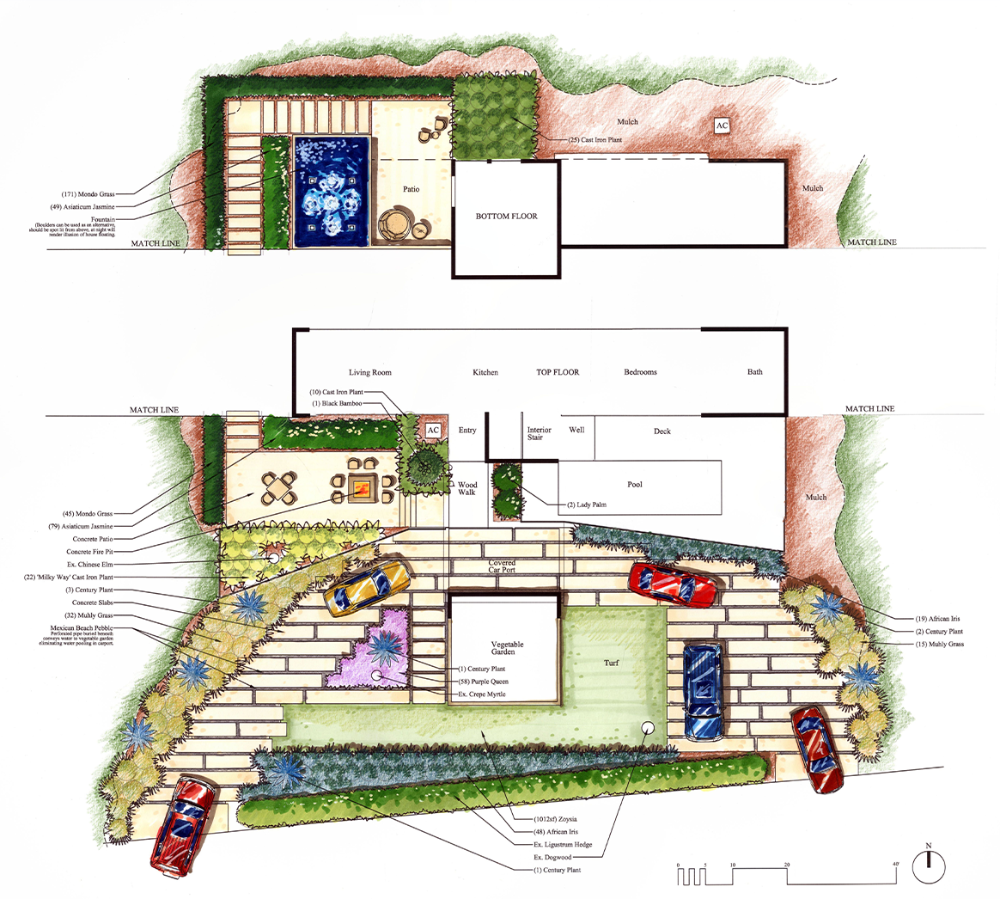 The Macedo residence is a mid-century modern house with glass walls and a lower floor on a steep slope. This student design included a fire pit, fountain, and new driveway to help solve erosion problems.
---
MONAGHAN RESIDENCE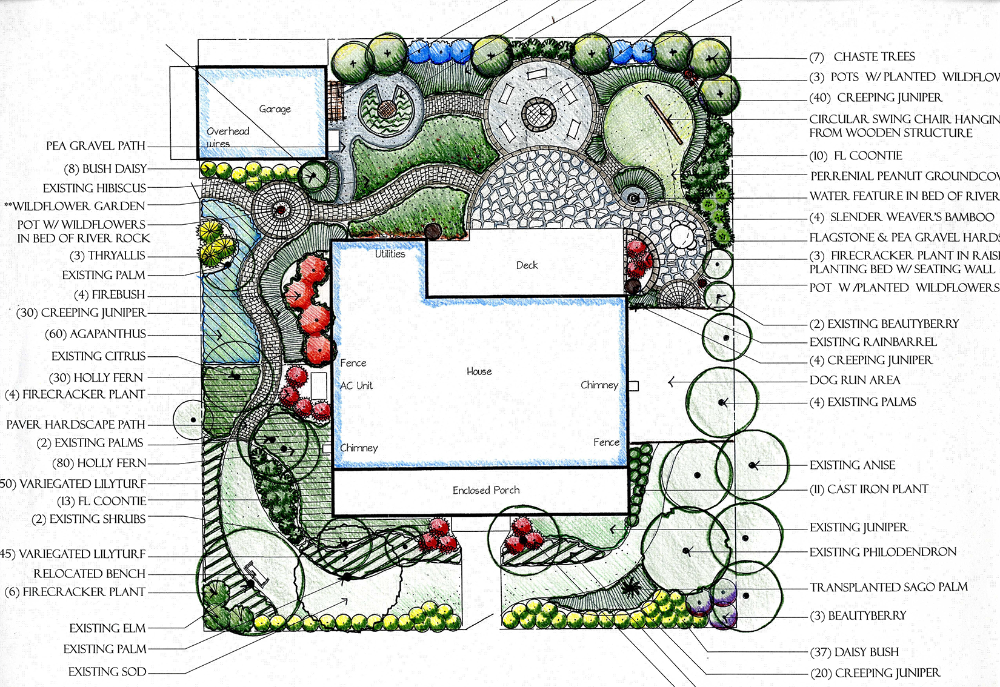 The Monaghan residence is an historic cottage with a front porch. This student design used a circular form theme to create a patio and fire pit area.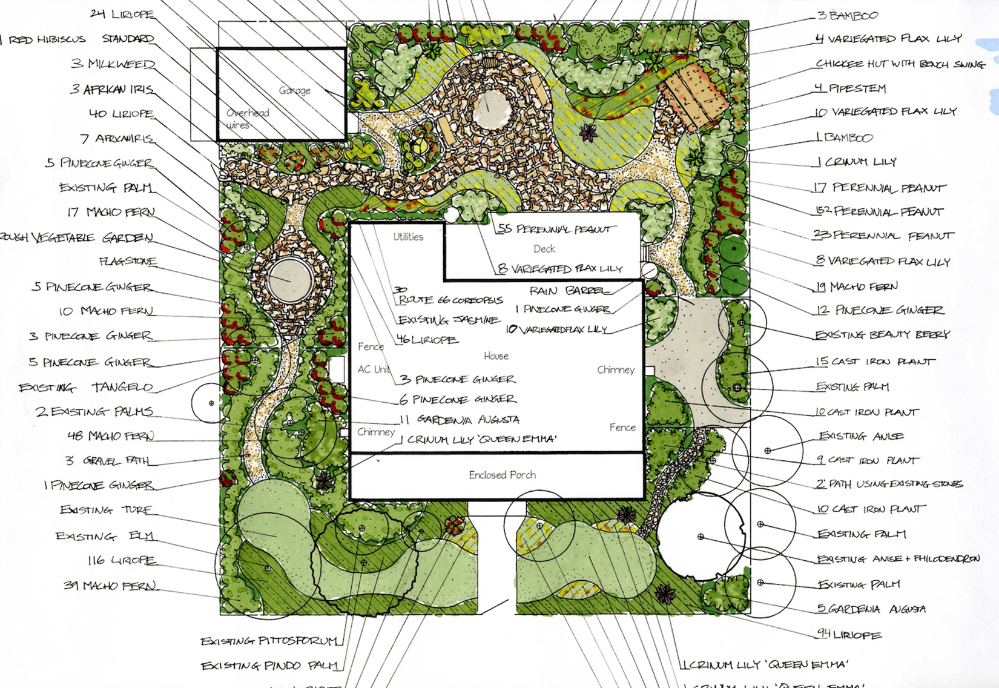 This student design of the Monaghan residence also used a circular form theme, but the use of meandering lines creates a more organic, less formal look.
---
WILMONT RESIDENCE
The Wilmont residence included a sustainable house on a pond. This student design included a stormwater management system with swales and drought-tolerant plants.
---
POOL RESIDENCE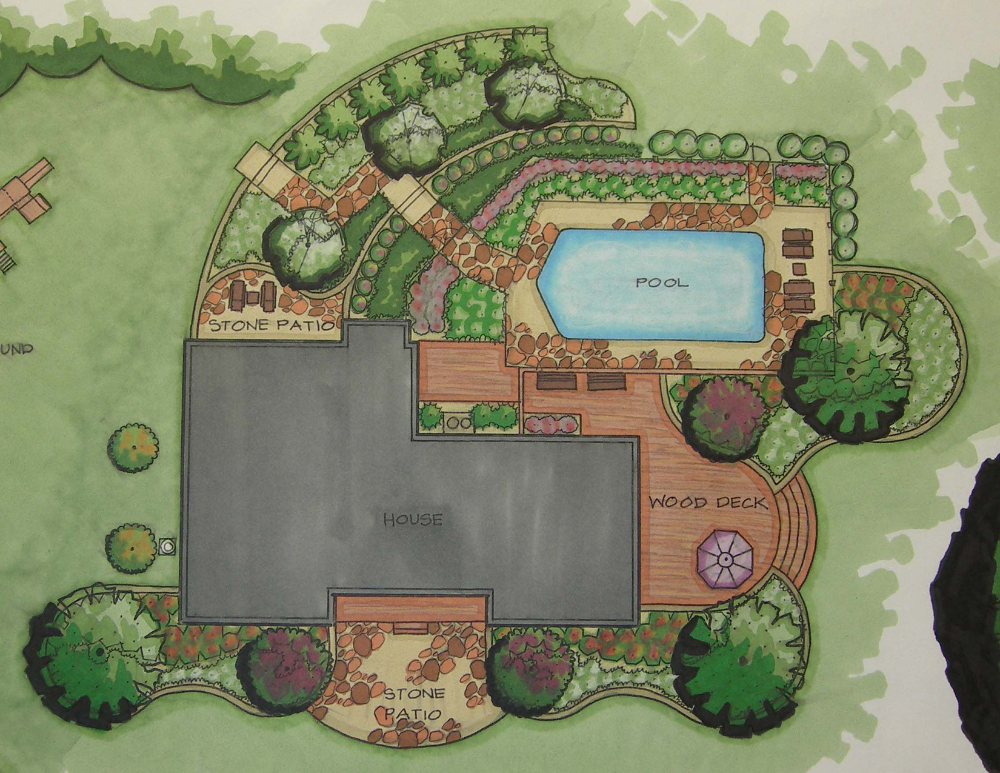 The Pool residence was an older home in need of renovation, including a pool that needed repair. A new wood deck and stone patios retain the look of the original home and new retaining walls create additional garden space in the back yard.
---
A PRIVATE COURTYARD
The courtyard project was for a contemporary glass and steel house. This student design used an angular and grid theme to maintain the contemporary feel. The plan includes a steel and glass greenhouse, a dipping pool, and a wood deck.
---
RAMBO RESIDENCE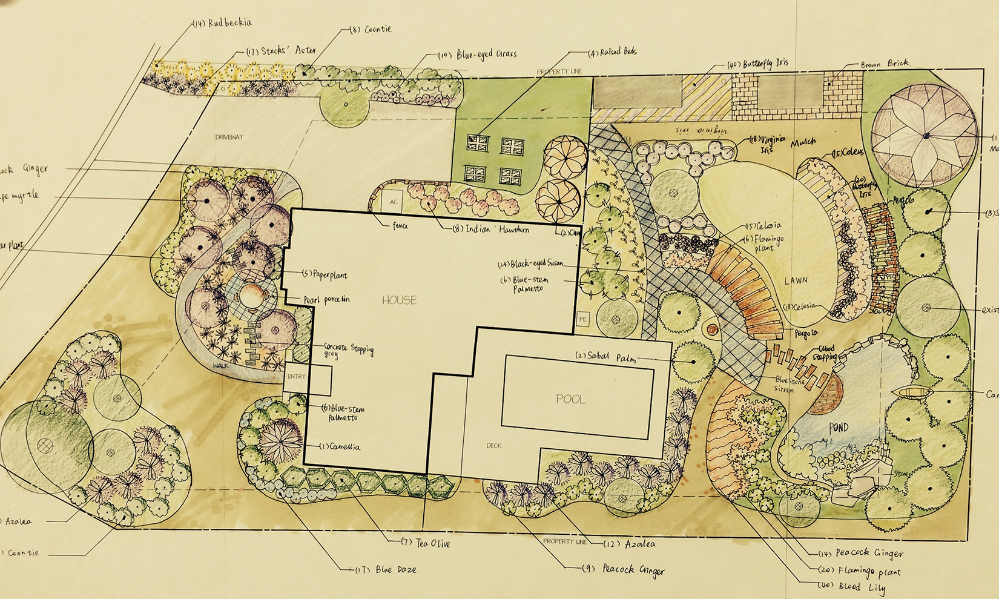 The Rambo residence is a typical suburban house with a large lot next to a wooded area. The student's plan includes a pond for wildlife, pergolas for seating areas, and an activity lawn.
---
UNBUILT PROJECT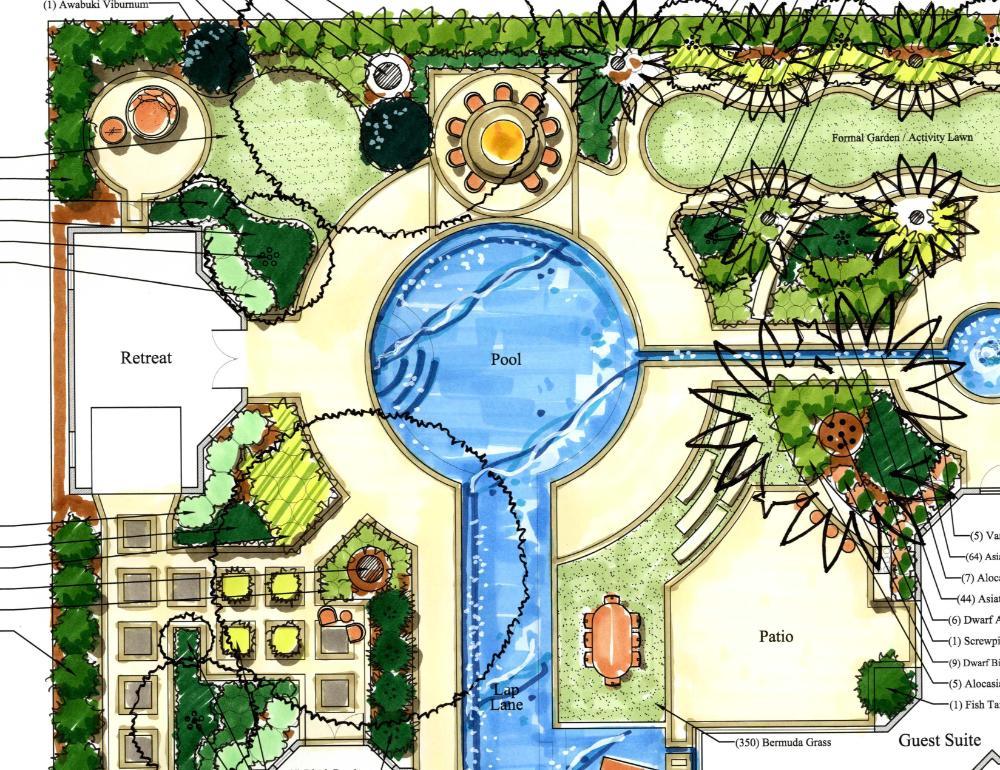 The unbuilt project is a fictional high-end house. The purpose of this project is to allow the students to be creative with an unlimited budget and no client constraints. This student plan includes several pools, formal gardens, various gathering areas, and a private retreat.