2011 Solstice Red
Growth Regulators Applied / Height graph
Graph shows projected plant heights during production of the crop. Dots are plotted actual height each week. Arrows indicate when PGRs are applied with details in the weekly notes. We use the "late" graphical tracking curve and heights are from bench to height of growing tip. Heights are plotted from date of pinching to projected date of finish.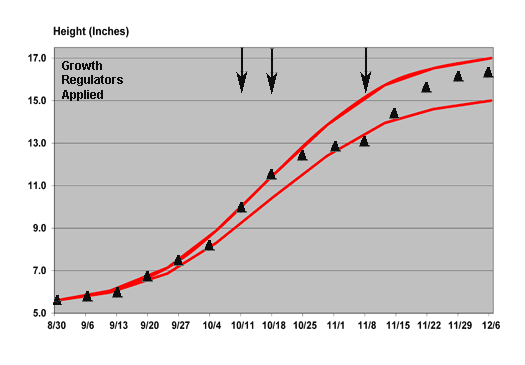 Notes
12/6
Solstice is a naturally late flowering variety and works well for this date. Final plant size is good. There was more response to the 2 drenches at 0.1 each than we expected. Then there was more response than expected to the Fascination. Note in the weekly pictures that the transition bracts have a light color, which is a characteristic of the variety. Initiation for Solstice in Florida is probably about 10/5, so this schedule gives about 5 weeks of vegetative time, which is long in most situations.
11/29
We expect this crop to finish next week at between 16 and 17".
11/22
With the warm days, this crop is growing a little more than we expected. It appears that it will be showing pollen in about 10 days and hopefully it will come in at 17". We considered doing a Bonzi drench this week, but decided to see how the plants develop.
11/15
Like the Prestige crop these Solstice had slowed down too much and we applied a Fascination spray last week. The response was good, and we will see where the crop is next week.
11/8
These plants look good and leaf expansion is good. However, elongation has slowed too much in response to the combination of our mild temperatures and the PGR applications. We are spraying Fascination at 3 ppm and will see how they respond.
11/1
This crop of Solstice is showing the effects of the 2 PGR applications. The shoot tips are tight and the new leaves are expanding just below the previous leaves, which indicates elongation is slowed a little too much. We will see how they do this next week. Early first color is showing now.
10/25
This crop looks good and should be showing color next week. We still want it to grow at less than an inch per week. We will wait until next week to see the full effect the past 2 PGR applications.
10/18
These plants look good. This crop's current situation is similar to the delayed Jubilee. However, we are going to apply another Bonzi drench at 0.1 ppm this week. These Solstice have had one additional week of vegetative growth compared to the delayed Jubilee, so we are being a little more aggressive with it.
10/11
These Solstice have started growing more rapidly now. We want the plants to grow only about 6" in the next 8 weeks, so we need them to slow down. We are applying a Bonzi drench at 0.1 ppm this week.
10/4
This group of Solstice continues to look good and we will see how they develop in the cooler weather.
9/27
There is still a long way to go on these Solstice and we will continue to let them go.
9/20
These Solstice are looking better and we will see how they grow this next week.
9/13
These Solstice look fine at this point.
9/6
Solstice Red is not too vigorous early so we do not need to do a PGR application this week.
8/30
Solstice Red is a new variety for late markets. It has dark leaves, strong stems, and an upright growth habit. We have it scheduled to finish a week after Prestige and expect the rate of growth to be similar to Prestige.