2004 Sonora White Glitter
Graph shows projected plant heights during production of the crop. Dots are plotted actual height each week. Arrows indicate when PGRs are applied with details in the weekly notes. We use the "late" graphical tracking curve and heights are from bench to height of growing tip. Heights are plotted from date of pinching to projected date of finish.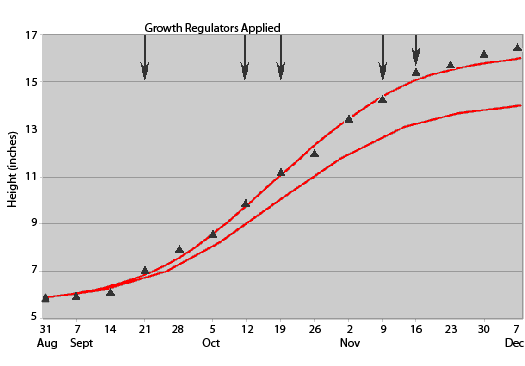 Notes
12/07
The Sonora White Glitter crop finished slightly taller then our desired heights, but the crop is very nice. Bract expansion is good and the plants are very uniform in appearance, other then variation in finish timing. The relatively long crop time resulted in 5 growth regulator applications, all at low rates, and very strong plants. Since this is a late flowering variety, we should have used a stronger B-Nine/Cycocel spray on Oct. 12.
11/30
About 25% of this crop is salable now and about 10% need about 2 more weeks. The later plants are going to finish a little taller, but the crop will be fine.
11/23
We have put on 2 low-rate Bonzi drenches and now elongation seems to be under control. The plants look good, but finish timing is not uniform. Some plants will be finished in 7 days, while others are just showing color.
11/16
It often takes 5-7 days before the effect of a drench can be seen in the crop, and the effect of last week's low rate drench can not be seen yet. We were hoping this week,s height would be about 1/2 inch shorter and we would not have applied another drench. Now however, we need to slow this crop even more, so we applied another Bonzi drench at 0.25 ppm.
11/09
The elongation rate has slowed just a little on this crop, but we wanted to give it a little more help in slowing down. So, we used a low rate drench at 0.25 ppm today to make sure it did does not grow another inch in the next week. The crop is not developed enough for a stronger rate that would stop it at this height. Plant heights are uniform in this crop, but color development in the picture plant is ahead of the rest of the crop. If we are lucky this drench will be all that is needed to bring the crop in below 16 inches.
11/02
This crop is turning out to be nice plants. The longer crop time combined with growth regulators is working. We will see how it develops now that temperatures are supposed to be cooler.
10/26
First color is starting on some plants in this group, which indicates they may finish a little early. The plants look good and we will see what they do now.
10/19
Elongation on this crop was still over 1 inch this past week. We sprayed again this week with Cycocel at 1,250 ppm. First color on this late variety is still a couple of weeks away.
10/12
This crop looks good, but growth this past week was over 1 inch. We want to keep elongation at less than 1 inch per week for the next 4-5 weeks, when we anticipate making a late drench. This week we sprayed Cycocel at 1,250 ppm and will see how they respond.
10/05
This crop looks very good now and should progress at a good pace.
9/28
We are not spraying this crop this week. Last week's spray slowed growth nicely and we do not want to be too aggressive with this variety. We can spray it next week, if further control is needed.
9/21
This crop grew nicely this week. We made an application of the low rate spray (B-Nine/Cycocel at 1,000 ppm/1,000 ppm). Now we will need to watch it over the next 2 weeks to see if it will need another application.
9/14
We will continue watching this variety. It is doing as expected.
9/07
Growth regulator applications are not needed this early on low vigor varieties.
8/31
Sonora White Glitter is a jingle bells type that is a strong favorite with consumers. Vigor is low, so we planted and pinched it a week earlier than most other varieties. In our warm climate, it finishes late and we are projecting Dec. 7. We are not anticipating any problems with height control and anticipate making one spray about 3-4 weeks after pinch and then a late drench if needed.