2004 Snowcap
Graph shows projected plant heights during production of the crop. Dots are plotted actual height each week. Arrows indicate when PGRs are applied with details in the weekly notes. We use the "late" graphical tracking curve and heights are from bench to height of growing tip. Heights are plotted from date of pinching to projected date of finish.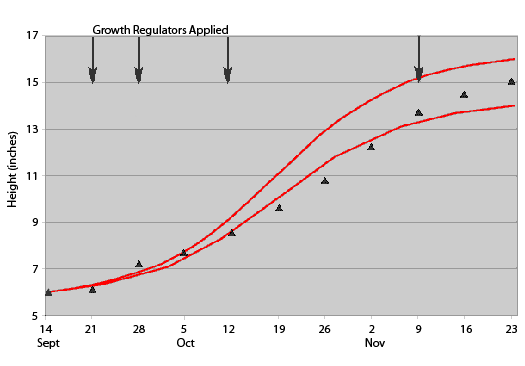 Notes
11/23
The Snowcap are finishing within the desired height range and we like the growth regulator plan for this vigorous crop. The plants need another week to be finished.
11/16
There is some variability in the stage of development of the Snowcap and the plants are 7-14 days to finish. The late drench has the crop on track to finish at about 15 inches.
11/09
The Snowcap crop continued its rapid elongation and is just under 14 inches. We drenched it today with Bonzi at 1 ppm. Now it should end up at about 15 inches.
11/02
With the recent warm temperatures this crop grew about 1.75 inches. If it continues this pace we will probably make a drench treatment next week.
10/26
First color is showing on the Snowcap this week and they should finish about Nov. 23rd. We need to watch this crop now. If growth is at 2 inches per week, we will drench when it reaches 14 inches. If elongation stays at 1.5 inches or less the crop might finish without a drench.
10/19
The Snowcap are growing nicely and we will see what they do now. We should see first color next week.
10/12
This crop is starting to fill out. We anticipate the rate of growth to continue even more, so we applied Cycocel at 1,250 ppm to provide just a little control.
10/05
These plants seem to be under good control at this time and we are not spraying again this week.
9/28
We are spraying with the low rate of B-Nine/Cycocel this week. The weather is predicated to be cooler for most of the next week. If the prediction was for warmer weather, we would use a higher rate.
9/21
Going with the idea of being aggressive with this crop we sprayed it with the standard B-Nine/Cycocel rate (1,500 ppm/1,250 ppm). We will focus on keeping good control over the next 2 weeks.
9/14
Snowcap is a nice white variety that is very vigorous. We started it a week later than most other crops to make it easier. We will manage it aggressively to prevent it from getting out of control. The first spray will probably be put on at week 1.