2004 54-99 (Shimmer Surprise)
Graph shows projected plant heights during production of the crop. Dots are plotted actual height each week. Arrows indicate when PGRs are applied with details in the weekly notes. We use the "late" graphical tracking curve and heights are from bench to height of growing tip. Heights are plotted from date of pinching to projected date of finish.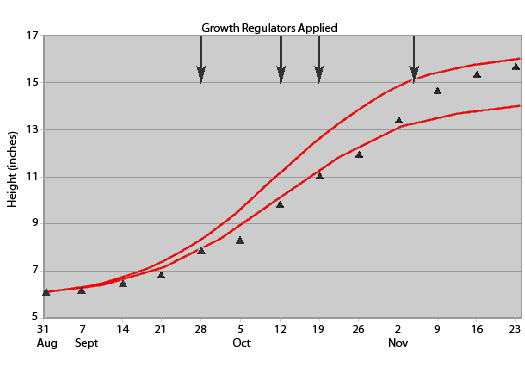 Notes
11/23
This variety will be named Shimmer Surprise because of the high degree of variation in bract color that occurs. In terms of growth habit, the crop is very uniform and easy to grow. Our strategy using a longer crop time and then more growth regulators has produced a nice plant. The late drench controlled height and we got good bract expansion.
11/16
The drench applied about 10 days ago has reduced elongation and the height on this crop is fine. The plants only need 3-4 days to be at a good stage for shipping.
11/09
At the end of last week, we made a drench application with Bonzi at 1 ppm and now we anticipate this crop finishing between 15 and 16 inches.
11/02
We need to be a little careful with this crop and make sure it does not put on 2 inches in the next week. We will look at it again at the end of the week.
10/26
One of our objectives with this crop was to keep it from stretching during this period and they are elongating at a good pace now. We will watch them the next couple of weeks and see if a late drench is needed.
10/19
Last weeks spray worked to slow this crop. We are spraying it again this week with Cycocel at 1,250 ppm, which may slow elongation enough that a drench is not needed. The first blush of color is now showing and the crop is on schedule to finish between Nov. 16 and 23.
10/12
These plants have grown out of the spray put on 2 weeks ago. The height is below the curve, but elongation rate is too fast. We applied Cycocel at 1,250 to help slow them some.
10/05
Last week's spray and the improved weather had a little more effect than we expected, but this crop is in good shape at this time.
9/28
This crop has started more rapid elongation now. We are spraying B-Nine/Cycocel at 1,000 ppm each this week. This should keep it from stretching too much and hopefully hold it until the late drench is applied.
9/21
These plants look fine, but we do not want to spray until they show more growth.
9/14
We will continue watching to see how this crop grows.
9/07
Growth regulator applications are not needed this early on low vigor varieties.
8/31
54-99 is a nice new jingle bells type with white flecks on a bright red background. It will probably be named Shimmer Red and is closely related to Shimmer Pink and Jingle Bells 4.0. 54-99 was in the 2003 examples. It started slow after the pinch and we did not make any early PGR applications. Near the end of the crop it stretch rapidly and we made a late Bonzi drench that worked well. This year we planted and pinched a week earlier and anticipate making one spray at 3-4 weeks. We hope this will somewhat reduce the late stretch.