2004 Orion
Graph shows projected plant heights during production of the crop. Dots are plotted actual height each week. Arrows indicate when PGRs are applied with details in the weekly notes. We use the "late" graphical tracking curve and heights are from bench to height of growing tip. Heights are plotted from date of pinching to projected date of finish.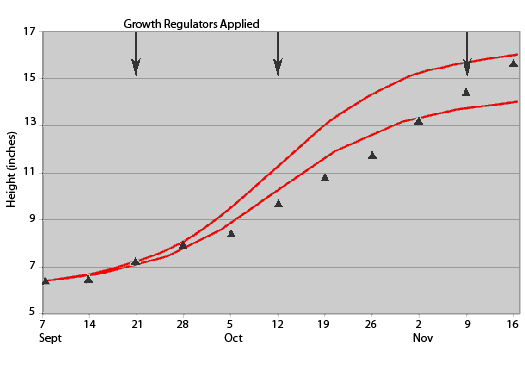 Notes
11/16
The Orion crop has finished within the height specs and on schedule. The plants look good, but we could have improved this crop by applying the late drench 4-7 days earlier. This would have reduced the elongation in the last few internodes by 1/2 to 1 inch.
11/09
About 25% of the Orion are showing pollen on the first cyathia and the crop will be finished by next week. The crop is headed to a finish height of 15-16 inches. However, we want to reduce the stretched appearance that is developing, so we put on a Bonzi drench at 1 ppm.
11/02
The Orion are about 10 days from finish and should slow down some this next week.
10/26
This crop looks like it may slow down some and my not make the desired height.
10/19
We anticipate this crop finishing on time and at the lower end of the height range.
10/12
The Orion are just showing the first blush of color now, which is only a couple days ahead of when expected. The crop should finish between Nov. 9 and 16. We are applying Cycocel at 1,250 this week to slow the rate of elongation some and anticipate not having to do a late drench.
10/05
Elongation slowed with the improved weather this past week and we will continue to watch this crop.
9/28
This crop is under good control at this time and we will let it grow now.
9/21
Orion is growing fine now. We used the 1,000 ppm/1,000ppm B-Nine/Cycocel spray this week.
9/14
Orion is starting slowly and we will see how it does this next week.
9/07
Orion is the standard early variety. It can be more vigorous than freedom early. However, early growth in Orion, like all varieties, is affected by how much PGR is used in propagation. We will watch how the laterals start growing and probably make our first spray at week 2.