2004 Olympus
Graph shows projected plant heights during production of the crop. Dots are plotted actual height each week. Arrows indicate when PGRs are applied with details in the weekly notes. We use the "late" graphical tracking curve and heights are from bench to height of growing tip. Heights are plotted from date of pinching to projected date of finish.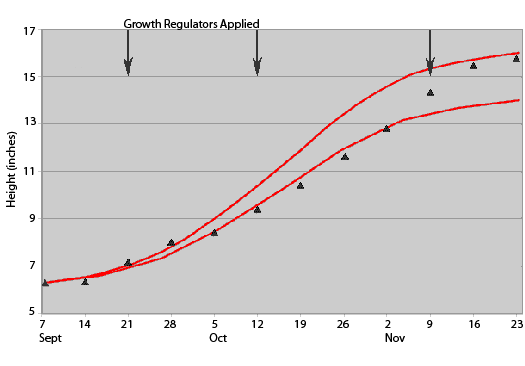 Notes
11/23
This is a new Olympus picture plant because the previous plant was not indicative of the crop. The crop is finishing at a good height and is uniform except for the one plant. The crop needs 3-5 days for the smaller bracts to expand before it is finished. The crop responded well to the late drench.
11/16
Elongation of the Olympus crop is just starting to show the effect of the drench last week, and it will likely finish at about 16 inches. The plant used for the picture is just about finished, but the rest of the crop is 7 days or so behind.
11/09
This is another crop that grew more this week then the previous week and seemed to respond to the higher temperatures. We applied a Bonzi drench at 1 ppm today and expect the crop to finish at about 15.5 inches.
11/02
The Olympus picture plant is the most developed plant in the crop and about a week ahead of the rest. The crop looks like it will keep growing and we will drench next week if it is over 14 inches.
10/26
All of the crop has reached first color now. There is some variability in development and the picture plant happens to be the most mature plant in the group. The plants should continue growing at this pace, and we anticipate drenching about Nov. 9th.
10/19
About 25% of this crop is showing color, which has it on schedule. The plants look like they will continue elongating at this rate or faster. We will be doing a late drench on Nov. 2 or 9.
10/12
Now the Olympus are growing at a good rate and looking at the plants we anticipate this rate continuing to increase. So we will try to slow them just a little with a spray of Cycocel at 1,250 ppm.
10/05
Not spraying last week was a good decision and we do not need to spray this week either.
9/28
We decided not to spray this crop now. The effect of last week's spray is still there. Plus, cooler weather is predicted for this week. We do not feel there is a danger of it getting out of control this coming week.
9/21
While Olympus is similar to Orion and the heights are similar this week, Olympus looks like it is growing a little stronger than Orion, so we used the standard spray rate (B-Nine/Cycocel at 1,500 ppm/1,250ppm).
9/14
Olympus is getting off to a good start. We do not need to spray this week.
9/07
Olympus is a newer variety with growth habit somewhat similar to Orion. We want to keep the nodes compact and not let it get soft.