2004 Christmas Dream
Graph shows projected plant heights during production of the crop. Dots are plotted actual height each week. Arrows indicate when PGRs are applied with details in the weekly notes. We use the "late" graphical tracking curve and heights are from bench to height of growing tip. Heights are plotted from date of pinching to projected date of finish.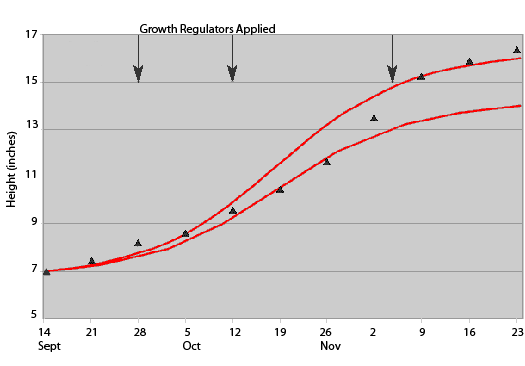 Notes
11/23
This Christmas Dreams crop looks good and has finished on time. The initial plan was to not use a late Bonzi drench to avoid affecting bract expansion on this sensitive variety. Due to the late growth, we had to drench and used a low rate (0.2 ppm). There is a little wrinkling in the smaller bracts, but overall the strategy worked. It would have been better to have the plants about 1 inch shorter near the end of Oct.
11/16
The drench applied about 10 days ago has started slowing down elongation on Christmas Dream. It should now finish at about 16.5 inches.
11/09
This crop continued its fast pace and grew almost 2 inches in the past week. Temperatures were well above normal for most of this period, since the projected cooler weather did not materialize until the weekend. We applied a drench at only 0.2 ppm at the end of last week hoping the low Bonzi rate would reduce growth some and have minimal effect on bracts of this sensitive variety. We could have used a higher rate and stopped elongation, but decided to opt for a taller plant with good bracts.
11/02
Our temperatures this past week were 10 degrees above normal and this crop grew about 2 inches. So now, we will need to apply a drench. However, we want as much bract development as possible before the treatment and will wait as long as we can before doing it. We will look at this crop again at the end of this week.
10/26
The Cycocel spray 2 weeks ago did not hold the Christmas Dream as much as we wanted. We still may be able to finish the crop without a late drench.
10/19
This crop is where we wanted it at this stage. Now we hope it will finish without needing a late drench.
10/12
One of our objectives with this crop is to avoid doing a late drench, so we want to keep it on the low side of the curve. This week we are spraying Cycocel at 1,250 ppm. Cycocel alone has less effect than the low rate B-Nine/Cycocel tank mix. The weather is predicted to be much cooler the next several days and we want this spray to have just a little effect.
10/05
These plants are doing fine. The spray last week plus the much better weather we had this past week has slowed elongation. Now we will see if they stay on this pace and go below the curve or if they resume a normal rate of elongation.
9/28
We are spraying this crop with the standard B-Nine/Cycocel rate (1,500 ppm/1,250 ppm). The plants look like they are doing fine, but we want to get the height at the low end of the curve 3-4 weeks from now.
9/21
We did not spray the Christmas Dream this week, which means we will definitely need to spray it next week.
9/14
Christmas Dream makes a beautiful strong plant with large flat bracts. However, it is more sensitive to the late drench, which causes wrinkled bracts. It is a vigorous variety, and we will attempt to manage height so the late drench is not needed.