Home > Urban/suburban design > Spacing between trees
Spacing between trees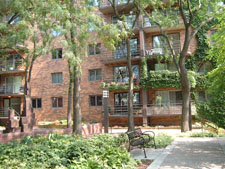 Trees grow like they do in the forest when planted closely. People prefer spending time in this type space than in a space where canopy is low to the ground.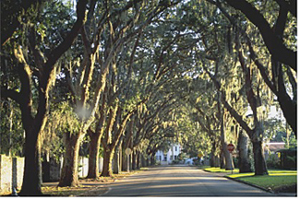 Notice the cathedral-like canopy that developed when these live oaks were planted close together.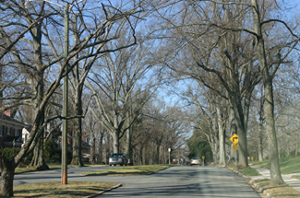 Spaced further apart, the trees develop a more spreading habit.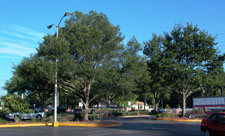 Trees planted farther apart develop a canopy close to the ground. This requires more frequent pruning than trees planted close together.
Trees are often spaced apart according to their mature canopy spread. Tree spacings of 50 to 60 feet are common place. This allows the open grown form of the tree to develop (lower photo). There are also nice examples of trees in urban and suburban landscapes spaced much closer (upper photos).
A more natural upright form of the tree usually develops with close spacing (top photo). There are advantages and disadvantages associated with both strategies (see table).
TREE SPACING IMPACT ON URBAN FORESTRY PROGRAM
CLOSE SPACING (20 TO 30 FEET):

Advantages:
1. quick shade
2. cathedral-like canopy
3. less pruning of drooping branches required due to the upright canopy
4. more natural, upright form develops
5. trees are less susceptable to wind damage

Disadvantages:
1. outer trees bend away from others and are one-sided
2. if one or several die, adjacent trees may be susceptible to wind damage
3. more costly than farther spacing

FARTHER SPACING (40 TO 60 FEET):

Advantages:
1. less costly than close spacing







Disadvantages:
1. except for trees with an upright habit, drooping branches need regular removal
2. large lower branches often develop, requiring removal and creating a large wound that can initiate decay
3. longer time needed to form a closed canopy