Viburnum obovatum (Walter's Viburnum)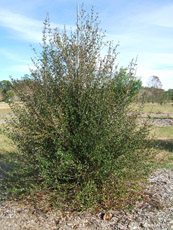 *Click on picture for more images of this species.
USDA Hardiness Zone: 7A - 10B
Mature Height: 8 to 25 ft
Mature Spread: 6 to 10 ft
Growth Rate: Moderate
Availability: Available as shrub, less so as a tree
Drought Tolerance: High
Salt Tolerance: Poor
Light Requirements: Full sun to partial sun.
Native Origin: Native to Florida
Soil Drainage: Tolerates well-drained sites to occasionally wet sites.
Foliage: Evergreen tree with no showy fall color.
Flowers: White, showy flowers in mid-winter.
Pests: Free of serious pests and diseases.
Description: Walters Viburnum, in the opinion of some nursery growers, is the very best Viburnum for use in Central and South Florida. Unfortunately, it is not widely available as a tree. It is a shrub or small tree that can grow to a height of about 25 feet. However, there are forms of this plant that are upright, spreading, weeping or dwarf. It is difficult to determine which form you are buying by simply looking at the plant. The only way to determine the ultimate height and shape of the plant is to know the original source of the plant material. A reputable nursery will know the characteristics of their plants. Cultivars are now available in different sizes and forms.
The evergreen leaves of Walters Viburnum vary from very small to medium sized, glossy, leathery, and dark green. They are also fragrant when crushed. The winter or spring flowers occur in small, convex cymes held at the branch tips before new growth emerges. Flowers can cover the plant with white blooms for about 2 or three weeks in winter. The fruits of this plant are small drupes that turn from red to black during maturation.
Walters Viburnum may be utilized in the landscape as a fine-textured, clipped hedge or tall screen. Small leaves make it a great candidate for shearing into a topiary, espalier or formal hedge. Older specimens can be trained into small trees with several trunks. Nurseries can also train young plants to grow in this manner with one central trunk. Walters Viburnum will grow well in a site that receives full sun or shade. It is native to acidic wetland forests which are frequently inundated for a period of time during the year, but it tolerates a broad range of growing conditions including moderate drought.
Gainesville Observations: Trees are easy to grow into a single dominant trunk since there are so many branches to prune back to. The only caution is that branches are very brittle, at least on the three trees I pruned. Flowers appear in late January/early February at a time when little else is in flower. This should make a good small street or parking lot tree for urban landscapes. It is one of my favorite small trees for Florida landscapes.
Fact Sheet (pdf)
Click here for more photos of this tree.