Trees under and near power lines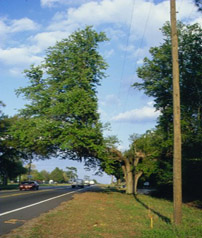 Trees can be a great asset in the urban landscape, especially when the right trees are planted in the right place.
Using small trees near power lines can reduce the amount of pruning that power companies must do to reduce power outages caused by interfering tree limbs (see photo). Recent Florida legislation mandates that only small trees can be planted in utility rights-of-way, but there are few tests evaluating small trees.
Ed Gilman, UF/IFAS professor of environmental horticulture, designed a study to evaluate whether 70 types of small trees are well suited for planting under power lines. The study focuses on the tree habits and adaptation, nursery production requirements, and maintenance needs.
While the stature of some of these trees makes them good candidates for planting under power lines, some may not be appropriate due to other attributes--too large a size, sharp thorns, messy fruit, or poor adaptation to nursery production or transplanting.
All tested trees are listed at the upper left link. Trees that were planted in Gainesville and that may also grow in other regions of Florida are listed in each of the regional lists. Click on the urban tree selection contents item for easy-to-use software designed to generate tree lists for planting near wires and for other situations.
The site will be updated to include additional notes, photographs, and performance data, so be sure to check back often.