Vaccinium arboreum (Sparkleberry)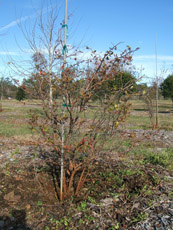 *Click on picture for more images of this species.
USDA Hardiness Zone: 6B - 10B
Mature Height: 12 to 18 ft
Mature Spread: 10 to 15 ft
Growth Rate: Moderate
Availability: Rarely available except in very small shrub sizes
Drought Tolerance: Moderate
Salt Tolerance: Unknown
Light Requirements: Full sun to partial shade.
Native Origin: Native to Florida
Soil Drainage: Tolerates well-drained sites to occasionally wet sites.
Foliage: Deciduous tree with showy fall color.
Flowers: White, showy flowers in the spring.
Pests: Free of serious pests and diseases.
Description: Plants are well known as a reliable native shrub for planting in the garden. They are becoming more common in native landscapes. Flowers in March are a wonderful surprise.
Gainesville Observations: One tree died in the test probably from poor root systems. Plants flower reliably and are very attractive in flower. It will take some time for plants to become large enough to be considered a tree. The branching character is unusual and makes this an interesting small tree/large shrub. These plants will be very well suited for under power lines.