Ternstroemia gymnanthera (Cleyera)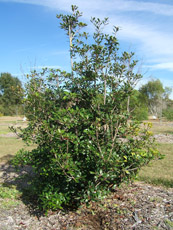 *Click on picture for more images of this species.
USDA Hardiness Zone: 7A - 10A
Mature Height: 10 to 15 ft
Mature Spread: 6 to 10 ft
Growth Rate: Moderate
Availability: Somewhat available
Drought Tolerance: Moderate
Salt Tolerance: Unknown
Light Requirements: Full sun to partial shade.
Native Origin: Not native to North America. Non-invasive.
Soil Drainage: Needs a well-drained site.
Foliage: Evergreen tree with no showy fall color.
Flowers: White, showy, fragrant flowers in the spring.
Pests: Free of serious pests and diseases.
Description: Cleyera is tolerant of full sun but grows best in partial shade in rich, moisture-retentive but well-drained, acid soil. Foliage may burn in full sun in winter. The leaves will turn yellow if the soil is alkaline. Pruning is not usually necessary on slow-growing Cleyera if you are interested in growing a shrub form but new growth may be pinched to encourage compactness, particularly in the shade. Cleyera can be clipped and maintained as hedges for a long time.
The clean, dense, neat, upright growth of Cleyera makes it a good choice as an accent plant as well as a screen or hedge. Plants can provide the effect of red tip Photinia without the disease problems. Pollen causes mild allergy symptoms.
Gainesville Observations: I think plants can be pruned into a small tree since I have seen this in older landscapes in the southeast US. We are attempting to train ours into small trees but this has been challenging because plants came from the nursery sheared and in a shrub form. If we had obtained a different set of liners that was not sheared and topped our job might have been easier.