Stewartia malacodendron (Silky Camellia)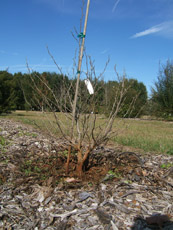 *Click on picture for more images of this species.
USDA Hardiness Zone: 7B - 9A
Mature Height: 12 to 18 ft
Mature Spread: 15 to 25 ft
Growth Rate: Slow
Availability: Rarely available
Drought Tolerance: Moderate
Salt Tolerance: Unknown
Light Requirements: Full sun to partial shade
Native Origin: Native to Florida.
Soil Drainage: Tolerates well-drained sites to occasionally wet sites.
Foliage: Deciduous tree with showy fall color.
Flowers: White, very showy flowers in the spring.
Pests: Free of serious pests and diseases.
Description: One of the most beautiful Florida native flowering trees. The national champion is in the panhandle of Florida.
Gainesville Observations: One tree died in our test. Remaining trees are struggling and appear poorly adapted to the full sun conditions at our site. We replanted and will try again.
Click here for more photos of this tree.