Quercus prinoides (Dwarf Chestnut Oak)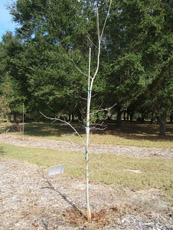 *Click on picture for more images of this species.
USDA Hardiness Zone: 8A - 9B
Mature Height: 12 to 20 ft
Mature Spread: 12 to 20 ft
Growth Rate: Slow to moderate
Availability: Rare
Drought Tolerance: Moderate
Salt Tolerance: Unknown
Light Requirements: Full sun to partial sun.
Native Origin: Not native to Florida.
Soil Drainage: Needs a well-drained site.
Foliage: Deciduous tree with no showy fall color.
Flowers: Spring.
Pests: Not much is known
Gainesville Observations: Trees were small when we planted them and they are gorwing very slowly. It looks like only one growth flush occurs each year. Foliage appears very old and brown by the end of summer. This appears to be a true dwarf oak species.