Podocarpus macrophyllus (Podocarpus)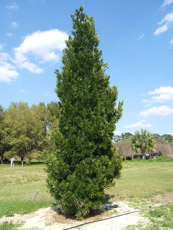 *Click on picture for more images of this species.
USDA Hardiness Zone: 8B - 11
Mature Height: 30 to 40 ft
Mature Spread: 20 to 25 ft
Growth Rate: Slow
Availability: Available as shrub, less so as a tree
Drought Tolerance: Very high
Salt Tolerance: Moderate
Light Requirements: Full sun to partial shade
Native Origin: Not native to North America. Invasive potential has not been assessed.
Soil Drainage: Needs a well-drained site.
Foliage: Evergreen tree with no showy fall color.
Flowers: Yellow, not showy flowers in the spring.
Pests: Free of serious pests and diseases, but it can be affected by scale, mites and sooty mold.
Description: With densely foliated lower limbs which reach the ground and neat, dark green, evergreen leaves, Podocarpus is very popular as a dense screen or hedge. However, Podocarpus can reach 30 to 40 feet in height when not sheared and is quite attractive as a tree with the lower branches removed, revealing the light brown, peeling bark. If space permits, leave the lower limbs on the tree for a full-to-the-ground appearance. The tree grows in an open manner with large spaces between the branches creating a pleasing, irregular oval silhouette in middle and old age.
The inconspicuous flowers are followed by fleshy, purple, small, edible fruits (very good to eat) on female trees which are quite attractive to birds but not really messy on sidewalks or pavement. This is one of a few trees which can be pruned into a nice hedge. The dark green foliage and dense growth creates a formal mass. It looks better when pruned with a hand pruner, not sheared with a hedge trimmer. Showing best growth and form in full sun, Podocarpus will grow more slowly and have a looser appearance when grown in shade. It will grow on the north side of a tall building with little or no direct sun. It will tolerate a wide variety of well-drained, acidic soils.
This is a tough tree, adaptable to urban conditions and should be used much more extensively as a street tree. It should be used more in areas of poor, well drained soils and restricted rooting space. Unfortunately, most people choose to trim the tree into a column or hedge, so not many have seen the true beauty of the tree. It makes an attractive specimen, street or parking lot tree, even for the smallest soil space in a downtown planting pit. Roots are typically not a problem in restricted-soil planting areas and usually do not lift sidewalks very much.
Gainesville Observations: Trees grow finely after transplanting from a field nursery or from containers. One 9 inch caliper tree in our test was transplanted with a 100-inch tree spade in extreme drought May 2007 without missing a beat. This tree is pictured above one year later. There is tremendous variation among trees; we need a variety of cultivars for podocarpus for urban tree planting.