Oxydendrum arboreum (Sourwood)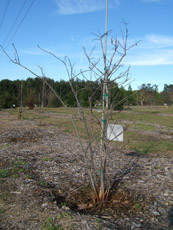 *Click on picture for more images of this species.
USDA Hardiness Zone: 5A - 9A
Mature Height: 30 to 40 ft
Mature Spread: 25 to 30 ft
Growth Rate: Slow
Availability: Rare, and only in small sizes
Drought Tolerance: Moderate
Salt Tolerance: Unknown
Light Requirements: Full sun to partial sun.
Native Origin: Native to Florida.
Soil Drainage: Needs a well-drained site.
Foliage: Deciduous tree with showy fall color.
Flowers: White, showy flowers in the summer.
Pests: Free of serious pests and diseases, although fall webworm, twig blight and leaf spots can become a problem.
Description: Sourwood usually grows as a pyramid or narrow oval with a more or less straight trunk at a height of 25 to 35 feet but can reach 50 to 60 feet tall with a spread of 25 to 30 feet. Occasionally, young specimens have a more open spreading habit reminiscent of Redbud. Leaves are dark, lustrous green and appear to weep or hang from the twigs. Branches droop toward the ground forming a graceful outline when planted as a single specimen. The branching pattern and persistent fruit make the tree interesting in the winter.
The mid- to late-summer flowers are borne in terminal clusters of racemes which curve upward, creating a graceful effect at flowering time. The fall color is a striking red and orange which is rivaled by only a few other trees such as Blackgum, Chinese Pistache, pears, and Chinese Tallowtree. There are few sights that are as striking as a row of Sourwood in fall color in the northern US.
Sourwood grows slowly, adapts to sun or shade, and prefers a slightly acid, peaty loam. The tree transplants easily when young and from containers of any size. Sourwood grows well in confined soil spaces with good drainage making it a candidate for urban plantings but is largely untried as a street tree. It is reportedly sensitive to air pollution injury. Irrigation is required during hot, dry weather to keep leaves on the tree.
Gainesville Observations: Our trees have performed poorly and have all died but all had terrible root systems when we planted them. Root problems typify a number of the trees we purchased for this project. They have been replaced. This tree is a few counties out of its natural range and may not do well in Gainesville, even with good root systems. Full sun may be too much in Gainesville for this tree. Further testing is needed.