Osmanthus americanus (Devilwood)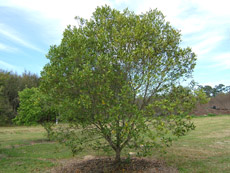 *Click on picture for more images of this species.
USDA Hardiness Zone: 5B - 9B
Mature Height: 15 to 25 ft
Mature Spread: 10 to 15 ft
Growth Rate: Slow to moderate
Availability: Rarely available
Drought Tolerance: Moderate
Salt Tolerance: High
Light Requirements: Full sun to partial sun
Native Origin: Native to Florida
Soil Drainage: Tolerates well-drained sites to sites with extended flooding.
Foliage: Evergreen tree with no showy fall color.
Flowers: White, showy, fragrant flowers in late winter.
Pests: Free of serious pests and diseases.
Description: A native to the southeastern United States, Devilwood is a very attractive, small evergreen tree which is most commonly seen at 15 to 25 feet in height and sports lush, dark, olive green leaves throughout the year. It is occasionally seen 30 to 40 feet tall in its native habitat and grows slowly. The clusters of small, white, fragrant, early springtime flowers are followed by the production of small, dark blue drupes, ripening in fall and persisting on the tree until the following spring, if not first consumed by birds and other wildlife.
Its ease of growth, pest-resistance, attractive foliage and flowers, and wildlife-attracting fruits would make Devilwood a popular choice for naturalizing or the mixed shrubbery border. The trees tolerate heavy pruning particularly well and may also be used as a hedge. Devilwood is so- named because the fine-textured wood is difficult to split and hard to work. Naturally found along stream banks or swamp margins, Devilwood should be grown in full sun or partial shade on moist, well-drained soil. Drought tolerance is moderate once established. The tree is probably as shade tolerant as any Osmanthus. Not tested as an urban tree, but it may have some merit in moist or wet soils.
Gainesville Observations: Trees have grown well in our plots for more than 10 years. Its slow growth rate and moderately small stature make it suited for planting near power lines. Canopy is full of bright green attractive foliage that remains on the tree all year long. The tree should grow similar to fringetree and is often mistaken for it. Pruning in the nursery to one central leader should be possible, most trees are grown as multi-trunked branches to the ground.