Nyssa ogeche (Ogeechee Tupelo)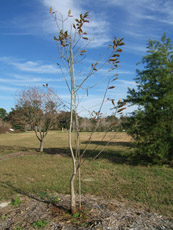 *Click on picture for more images of this species.
USDA Hardiness Zone: 7A - 9B
Mature Height: 30 to 45 ft
Mature Spread: 25 to 35 ft
Growth Rate: Moderate
Availability: Rarely available in anything but a small size
Drought Tolerance: High
Salt Tolerance: Unknown
Light Requirements: Full sun to partial sun.
Native Origin: Native to Florida
Soil Drainage: Tolerates well-drained sites to sites with extended flooding.
Foliage: Deciduous tree with showy fall color.
Flowers: White, not showy flowers in the spring.
Pests: Free of serious pests and diseases, but it can be affected by tupelo leaf miner, scale, leaf spot and rust.
Description: First discovered by William Bartram along the Ogeechee River in Georgia, Ogeechee Tupelo is a lovely native tree which reaches 40 feet in height and is pyramidal when young, maturing to a spreading, flat-topped crown. The multiple, irregular branches emerge from a trunk covered with dark brown or gray, ridged bark, and the base of the tree often develops swollen buttress-type roots as it gets older. The four to six-inch-long, dark green leaves are joined in early spring by dense, hanging clusters of small, white blooms.
The 1.5-inch-long, showy red fruits on female trees are produced in abundance and ripen in autumn. The juice can be used as a substitute for limes. Fruits can make a slight mess of a sidewalk, driveway or patio. In autumn the trees put on a brilliant display of colorful foliage ranging from vivid yellow to deep purple, which would make Ogeechee Tupelo a popular landscape choice. Unfortunately, it is usually not grown by many nurseries. Since the sex on trees can be determined at an early age in the nursery, it should be easy to select male trees. Those may be preferable since the fruits on female trees can be somewhat messy on pavement and walks.
Since it is most often found along streams and in low-lying areas which are regularly flooded in spring and winter, Ogeechee Tupelo will prefer a moist site on acid soil. It is well-adapted to sites which are wet for prolonged periods, once the tree becomes established. Located in full sun or partial shade, Ogeechee Tupelo will easily adapt to somewhat drier locations but should be protected from harsh winds. Trunks develop a hugh swollen root flare in its native habitat along rivers.
Gainesville Observations: Trees have grow fine in the 18 months since planting. Branches are a bit sparse along the trunk so it will be difficult to make this tree look full in the nursery. It may grow a little too tall for planting near some power lines.