Myrcianthes fragrans (Simpson's Stopper)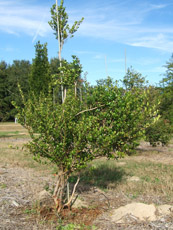 *Click on picture for more images of this species.
USDA Hardiness Zone: 9B - 11
Mature Height: 20 to 30 ft
Mature Spread: 15 to 20 ft
Growth Rate: Slow
Availability: Generally available in small sizes
Drought Tolerance: High
Salt Tolerance: High
Light Requirements: Full sun to partial shade.
Native Origin: Native to Florida
Soil Drainage: Tolerates well-drained sites to occasionally wet sites.
Foliage: Evergreen tree with no showy fall color.
Flowers: White, showy, fragrant flowers in unknown season.
Pests: Free of serious pests and diseases.
Description: This member of the Eucalyptus family is an attractive, hardy tropical. It was once known as Eugenia simpsonii. It may be a large shrub or small tree and can reach a height of 20 feet with a 15 foot spread. The tiny, deep green leaves contain aromatic oils with the fragrance of nutmeg and grow densely, when in full sun, on the smooth-barked branches. When this plant is grown in shade the foliage becomes less dense, and the trunk displays its attractive, smooth, exfoliating bark.
Simpson's Stopper has fragrant, white flowers that grow in long panicles which occur periodically throughout the year. These flowers then develop into attractive, red berries that are edible. The flowers attract many species of butterflies, and the fruits are appealing to birds, especially the state bird of Florida, the mockingbird. Simpson's Stopper performs well with little or no irrigation once it becomes established. It is useful in roadway medians, along unmaintained highways or in buffer strips around parking lots. It can be trimmed into a nice multi-trunked small tree for use near a deck or patio to provide shade to a small area. This configuration shows off the bark nicely.
Simpson's Stopper can grow in full sun or deep shade and is most useful where the soils contain shell, marl, or lime rock (alkaline soils). This plant will tolerate wet soils but is also drought tolerant. It shears well, has a high salt tolerance, and is hardy to about 25 F. Native habitat in Florida is the coastal upland forests with sandy soil containing shells and a neutral to slightly alkaline pH.
Gainesville Observations: Trees we received from the nursery had many upright stems tied together so they have been difficult to train into trees. With proper nursery production practices training into a single or multi-trunked tree should be fairly simple. There are ample branches to choose from to develop a symmetrical canopy and trees have good branch retention on the lower trunk. This will make it easy to develop good trunk caliper and a good root system. There has been a heavy berry set in early summer on our trees.