Lorpetalum chinensis 'Zhuzhou' (Loropetalum)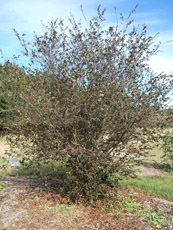 *Click on picture for more images of this species.
USDA Hardiness Zone: 7A - 10A
Mature Height: 6 to 12 ft
Mature Spread: 10 to 15 ft
Growth Rate: Moderate
Availability: Generally available
Drought Tolerance: Moderate
Salt Tolerance: Low to moderate
Light Requirements: Full sun to partial sun.
Native Origin: Not native to North America. Invasive potential has not been assessed.
Soil Drainage: Needs a well-drained site.
Foliage: Evergreen tree with beautiful purple to fuchsia color of the undersides of the leaves.
Flowers: Pink, showy, fragrant flowers in the spring.
Pests: Free of serious pests and diseases.
Description: Loropetalum prefers an acid soil and a mostly sunny position in the landscape. Its small size makes it well suited for planting in back of a shrub border or for use as a small tree near the patio. Limb the tree up to make a small tree; mass several together to make a dramatic statement and a nice, delicate flower show. It can be trained into a nice espalier. This is becoming a popular shrub used for many landscapes situations.
Gainesville Observations: Might be usable as a small multi-trunked ornamental tree near power lines due to its small stature. We are not sure yet as to appropriateness for use as a street tree due to its shrubby habit. Flowers have been less than spectacular so far but some of this might be related to the plant's adjustment to our site from a field nursery in Georgia. Foliage has not been reliable attractive throughout the year. Perhaps more time is needed for these trees to adapt to our growing conditions.
Fact Sheet (pdf)
Click here for more photos of this tree.