Juniperus chinensis 'Spartan' (Spartan Chinese Juniper)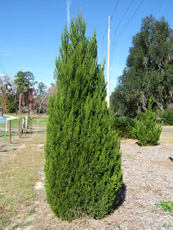 *Click on picture for more images of this species.
USDA Hardiness Zone: 5B - 10
Mature Height: 15 to 25 ft
Mature Spread: 4 to 8 ft
Growth Rate: Moderate
Availability: Generally available
Drought Tolerance: High
Salt Tolerance: High
Light Requirements: Full sun to partial sun.
Native Origin: Not native to North America. Not assessed for invasiveness.
Soil Drainage: Needs a well-drained site.
Foliage: Evergreen tree with no showy fall color.
Flowers: None.
Pests: Free of serious pests and diseases, but mites and bag worms can infest the foliage and it is susceptible to root rot and bacterial blight.
Description: Spartan Chinese Juniper grows into a narrow cone or columnar shape.The tree remains thick as if it had been sheared. It may grow to 20 feet tall in 15 years. A row of Spartan will produce a fairly uniform shape making it a great screen. Planted on four to six-foot centers, it can develop into a thick screen which could be useful along a driveway, where a narrow, bright green screen is often needed to create privacy.
Growing best in full sun, more open in partial shade, Chinese Juniper needs well-drained soil or it will decline from root rot. It tolerates alkaline soil and is quite drought-tolerant but root regeneration is slow after transplanting from a field nursery. It is frequently offered in containers from a nursery.
Gainesville Observations: Trees have excellent form and are vigorous with bright green foliage. Although we have not sheared the trees all appear as a uniform column of tight foliage. Trees should make a good candidate for planting near power lines.