Ilex vomitoria 'Pendula' (Weeping Yaupon Holly)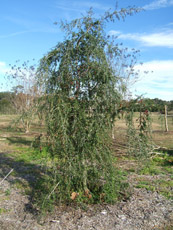 *Click on picture for more images of this species.
USDA Hardiness Zone: 7A - 9B
Mature Height: 15 to 30 ft
Mature Spread: 10 to 20 ft
Growth Rate: Moderate
Availability: Generally available
Drought Tolerance: High
Salt Tolerance: High
Light Requirements: Full sun to partial sun.
Native Origin: Native to North America.
Soil Drainage: Tolerates well-drained sites to sites with extended flooding.
Foliage: Evergreen tree with no showy fall color.
Flowers: White, not showy flowers in the spring.
Pests: Free of serious pests and diseases, although scale, leaf miners, mites and aphids could become a problem.
Description: Weeping Yaupon Holly makes a very distinct, irregular, weeping form with its upright crooked trunks and slender, curved, pendulous branches clothed with small, oval, grey-green foliage. Many nursery operators produce this tree with several trunks in a clump. Capable of reaching 30 feet or more in height, Weeping Yaupon Holly is most often seen 15 to 20 feet tall with a spread of only 10 to 20 feet. Old plants will spread to 25 feet.
The inconspicuous male and female flowers appear on separate plants and are followed in fall and winter by a spectacular display of the translucent red berries which attract wildlife. The flowers attract bees for several weeks. Purchase plants with berries on them (females) if you want a berry-producing tree. The tree is best used as an accent or specimen due to its unusual form, but planted about 8 to 10 feet apart makes a nice screen in the full sun. As the tree grows older next to a sidewalk or patio, lower branches can be removed to allow for pedestrians to pass beneath.
A sturdy North American native, Weeping Yaupon Holly is adaptable to a wide range of cultural conditions, from well-drained to wet, acid to alkaline, and sun to part-shade. It is very tolerant of drought and sea salt, and is one of the most durable and adaptable of the small-leaved evergreen Hollies for use in southern landscapes. Light pruning may be necessary to maintain shape, but unlike the species it requires less maintenance because it does not sprout from the roots.
Gainesville Observations: Trees should make good candidates for planting near power lines. Trees are vigorous and produce abundant berries attracting birds. Some pruning is needed to keep tree from becoming wider than tall on certain plants. It would be possible but difficult to train the tree to one trunk for street tree planting.