Hamamelis mollis (Chinese Witchhazel)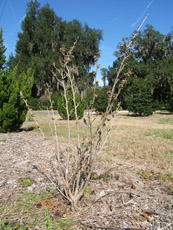 *Click on picture for more images of this species.
USDA Hardiness Zone: 6A - 8B?
Mature Height: 10 to 15 ft
Mature Spread: 12 to 18 ft
Growth Rate: Slow
Availability: Somewhat available
Drought Tolerance: Moderate
Salt Tolerance: Unknown
Light Requirements: Full sun to partial shade
Native Origin: Not native to North America. Invasive potential has not been assessed.
Soil Drainage: Needs a well-drained site.
Foliage: Deciduous tree with showy fall color.
Flowers: Yellow, showy, fragrant flowers in winter.
Pests: Free of serious pests and diseases.
Description: Chinese Witchhazel is a small, slow-growing, deciduous tree capable of reaching 20 feet high and wide but is more often seen at 10 to 15 feet. The three to six-inch-long, dull, gray/green leaves will usually put on a showy display in fall, as the dying leaves change to shades of yellow and orange before dropping. The long-lasting, showy, yellow flowers appear in early spring and are quite fragrant. These blooms are followed by the production of inconspicuous, green (turning black) fruits which persist on the tree.
Plant Chinese Witch-Hazel near a deck or patio or in the lawn or low ground cover as a specimen. Space branches apart on a single trunk so they can properly develop their horizontal, layered habit. The lowest branch can be located one or two feet from the ground to form a thick canopy all the way to the ground, or if planted close to a walk or patio, five to seven feet up to allow for pedestrian clearance beneath the crown. Trees can also be purchased and trained with multiple trunks for planting in open areas as specimens. This is an attractive, versatile small tree which could be used more in the urban landscape due to the small size and ornamental habit. Chinese Witch-Hazel should be grown in full sun or partial shade on well-drained, moist, acid soils. Trees grown in the partial shade are very nice, developing an open crown, but do not become leggy and unkempt like some other trees in partial shade. Nice specimens can be found in clay soils, even those which dry out for a period of time in the summer.
Gainesville Observations: A slow grower that might make a shrub but doubtful as a tree. Yellow flowers as a nice surprise. Fall color has been muted at best.