Feijoa sellowiana (Pineapple Guava)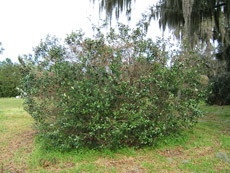 *Click on picture for more images of this species.
USDA Hardiness Zone: 8A - 11
Mature Height: 10 to 15 ft
Mature Spread: 10 to 15 ft
Growth Rate: Moderate
Availability: Occasionally available as a small tree
Drought Tolerance: High
Salt Tolerance: High
Light Requirements: Full sun to partial sun.
Native Origin: Not native to North America. Non-invasive.
Soil Drainage: Needs a well-drained site.
Foliage: Evergreen tree with no showy fall color.
Flowers: White, showy flowers in the spring.
Pests: Appears to be free of serious pests and diseases.
Description: Pineapple Guava is a gray-green evergreen shrub or tree (depending on pruning) which produces small, tasty fruit in late summer and early fall. The plants can be pruned to form a hedge or a small tree and will withstand several degrees below freezing. It is native to South America. The plant is not used nor is it commonly available in the Eastern U.S.
Gainesville Observations: Plants appear to be easy to train into small trees for planting under utility lines or for other small spaces. Although the plant grows fast, its take several years to train into a small tree. Trees can be trained as Ligustrum japonicum is.