Elaeocarpus decipens (Japanese Blueberry)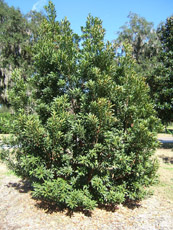 *Click on picture for more images of this species.
USDA Hardiness Zone: 8b - 10B
Mature Height: 30 to 40 ft
Mature Spread: 30 to 40 ft
Growth Rate: Moderate
Availability: Available at many locations
Drought Tolerance: Good to excellent
Salt Tolerance: Unknown
Light Requirements: Full sun for best performance
Native Origin: Not native to North America. Invasive potential has not been assessed.
Soil Drainage: Needs a well-drained site.
Foliage: Evergreen tree.
Flowers: White, slightly showy flowers in the spring.
Pests: unknown
Gainesville Observations: Trees retain branches to the ground, however they can be limbed up to present a clear trunk for street tree planting. The street tree plantings I have seen looked very nice. Plants have been vigorous and full and appear well adapted to north central Florida. They have been used well down into the southern portion of the state. Some interior foliage turns bright red and drops in spring and periodically throughout the year. This is normal and is not cause for concern. Growth rate is reasonable and easy to handle in a nursery production situation.