Cornus mas 'Spring Glow' (Cornelian Cherry Dogwood)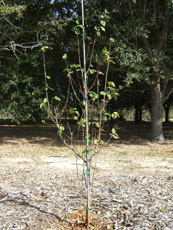 *Click on picture for more images of this species.
USDA Hardiness Zone: 5A - 8A
Mature Height: 15 to 25 ft
Mature Spread: 12 to 18 ft
Growth Rate: Slow
Availability: Rare
Drought Tolerance: Moderate
Salt Tolerance: Poor
Light Requirements: Full sun to partial shade
Native Origin: Not native to North America. Invasive potential has not been assessed.
Soil Drainage: Needs a well-drained site.
Foliage: Deciduous tree with showy fall color.
Flowers: Yellow, showy flowers in the spring and winter.
Pests: The main insect pests are borer, dogwood club gall midge, leaf miners, scales and aphids. The main diseases are dogwood canker, crown canker, flower and leaf blight, leaf spots, powdery mildew and lead scorch.
Description: Cornelian Cherry is a slow-growing, small tree or large shrub preferring sun or partial shade and a well-drained soil. The cultivar `Spring Glow' has a low chilling requirement making it the most suitable Cornelian-Cherry for the south but has been tested little. The beautiful flowers and handsome, leathery foliage looks good until frost in the mid south. Young plants transplant easily. Bark is very showy and is often displayed by removing lower foliage.
A height of 15 to 25 feet and spread of 12 to 18 feet can be eventually expected. The yellow flowers produced in very early spring are similar to Forsythia and are followed by red fruit which is edible and partially hidden by the foliage. The fall color is red. Cornelian-Cherry responds well to pruning and may be used as a hedge plant.
It grows well on a variety of soil, including clay. Soil should be kept moist with good drainage. Mulching encourages better root growth and moderate drought tolerance, but not considered highly drought tolerant by any means. Use it as a specimen or in a monoculture group planting or shrub border. The fruit makes an excellent tart jelly and also attracts birds. Makes an excellent patio tree in the yard and should be planted more.
North Central Florida Observations: Plants are in a location that is shaded in morning and sunny all afternoon; they are struggling and have grown very little. They appear to be poorly adapted to the climate.