Cornus foemina (Swamp Dogwood)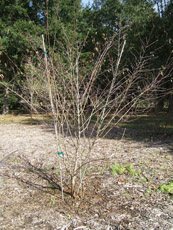 *Click on picture for more images of this species.
USDA Hardiness Zone: 5A - 9A
Mature Height: 10 to 15 ft
Mature Spread: 10 to 15 ft
Growth Rate: Slow to moderate
Availability: Somewhat available in small sizes
Drought Tolerance: Some to moderate
Salt Tolerance: Poor
Light Requirements: Full sun to partial shade
Native Origin: Native to North America
Soil Drainage: Needs a well-drained site.
Foliage: Deciduous tree with small foliage.
Flowers: White, very showy flowers in the spring.
Pests: Borers in stressed plants.
Gainesville Observations: One plant came to us with several trunks and we are encouraging this by securing each trunk to a stake. Stakes are inserted into the ground at an angle so trunks grow away from each other. This presents a more formal predicatable form. I think the plants could be trained to a dominant trunk if this began when the plants were a year or two old. We are training the other two trees to a dominant trunk with some success, but the process is slow due to slow growth rate. Plants have flowered reliably in the test plots and all trees survived nicely. This would make a great small tree for planting under any utility line. Foliage is retained well into the fall.