Cornus florida 'Weavers White' (Flowering Dogwood)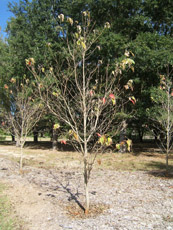 *Click on picture for more images of this species.
USDA Hardiness Zone: 5A - 9A
Mature Height: 20 to 30 ft
Mature Spread: 25 to 30 ft
Growth Rate: Moderate
Availability: Somewhat available
Drought Tolerance: Moderate
Salt Tolerance: Poor
Light Requirements: Full sun to partial shade
Native Origin: Native to North America
Soil Drainage: Needs a well-drained site.
Foliage: Deciduous tree with showy fall color.
Flowers: White, very showy flowers in the spring.
Pests: The main insect pests are aphids, borer, dogwood club gall midge, leaf miners, scales and twig girdlers. The main diseases are dogwood anthracnose, dogwood canker, crown canker, flower and leaf blight, leaf spots, powdery mildew and leaf scorch.
Description: Flowering Dogwood grows 20 to 30 feet tall and spreads 25 to 30 feet. This cultivar appears to be well adapted to USDA hardiness zones 8 and 9. It can be trained with one central trunk or as a picturesque multi-trunked tree. The flowers consist of four bracts which subtend the small head of yellow flowers. The bracts are white and larger than the species. The fall color is red to maroon. Fall color is more vivid in USDA hardiness zones 5 to 8a. The bright red fruits are often eaten by birds.
Branches on the lower half of the crown grow horizontally; those in the upper half are more upright. In time, this can lend a strikingly horizontal impact to the landscape, particularly if some branches are thinned to open up the crown. Lower branches left on the trunk will droop to the ground, creating a wonderful landscape feature. The tree is not suited for parking lot planting and struggles as a street tree. If you try it as a street tree provide with less than full-day sun and irrigation. Dogwood is a standard tree in many gardens where it is used in the patio for light shade, in the shrub border to add spring and fall color or as a specimen in the lawn or groundcover bed. It can be grown in sun or shade but shaded trees will be less dense, grow more quickly and taller, have poor fall color, and less flowers. Trees prefer part shade (preferably in the afternoon) in the southern end of its range.
Many nurseries grow the tree in full sun, but they are irrigated regularly. Flowering Dogwood prefers a deep, rich, well-drained, sandy or clay soil and has a moderately long life. It is not recommended in the New Orleans area and other heavy, wet soils unless it is grown on a raised bed to keep roots on the dry side. The roots will rot in soils without adequate drainage.
Gainesville Observations: One tree died in our test. Trees are beautiful in flower reliably producing a nice flower bud set and great flower display in mid- to late-March the first two years of testing. Growth is adequate and foliage is retained on the tree through the fall. Our trees are in shade until about noontime but then are in full sun until sundown. Trees appear easy to prune to a dominant leader by reducing growth rate on competing stems.