Carpinus caroliniana (American Hornbeam)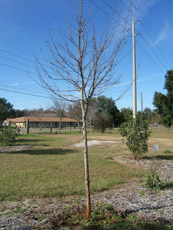 *Click on picture for more images of this species.
USDA Hardiness Zone: 3A - 9A
Mature Height: 20 to 30 ft
Mature Spread: 20 to 30 ft
Growth Rate: Slow
Availability: Somewhat available
Drought Tolerance: Moderate
Salt Tolerance: Poor
Light Requirements: Full sun to full shade
Native Origin: Native to Florida.
Soil Drainage: Tolerates well-drained sites to occasionally wet sites.
Foliage: Deciduous tree with showy fall color.
Flowers: Orange to yellow flowers in the spring, not showy.
Pests: Free of serious pests and diseases.
Description: A handsome tree in many locations, it slowly reaches a height and spread of 20 to 30 feet. It will grow with an attractive open habit in total shade, but is more dense in full sun. The muscle-like bark is smooth, gray and fluted. American Hornbeam has a slow growth rate and is reportedly difficult to transplant from a field nursery (although we moved 10- inch-diameter trees with a 90-inch tree spade during the winter in USDA hardiness zone 8b with no problem); trees should plant easily from containers.
The fall color is faintly orange to yellow and stands out in the landscape or woods in the fall and early winter. Brown leaves occasionally hang on the tree into the winter. With age, a multiple trunked, low branching specimen can be very attractive, showing off the bark and trunk form particularly well when lit at night. Tolerant of pruning, the tree can be used as a hedge plant or lends itself well for use as a screen due to the densely foliated crown. It can also be trained for street tree use by pruning to one central leader with small-diameter horizontal branches forming `layers' of foliage in the crown. That is how our trees were pruned in the nursery before we received them. Some nurseries offer single-stemmed specimens.
Well-suited for small spaces in the shade or sun, American Hornbeam is tolerant of occasional flooding. The wood is very hard and strong and makes a great tree for climbing if allowed to grow with low branches intact. Nutlets and buds are eaten by many birds and squirrels. If transplanting from the field, do it in the spring. It performs well even in areas inundated with water for several days to a week or two once it is established. Although moderately drought-tolerant, it is probably best to provide even established trees with some irrigation during dry spells in Florida. It grows in sun or shade (as an understory tree in the woods) and tolerates most soils, including wet, but not alkaline.
North Central Florida Observations: All our 2-inch diameter trees died by about one year after planting. We attribute this to inferior root systems in the root ball. Poor performance was not due to lack of water since all trees were irrigated regularly as were all tree species in the test. We replanted in March 2008 from the same nursery and trees are leaving out normal.
Fact Sheet (pdf)
Click here for more photos of this tree.