Callistemons citrinus (Red Bottlebrush)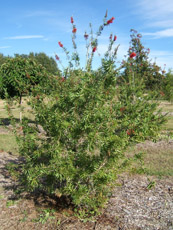 *Click on picture for more images of this species.
USDA Hardiness Zone: 9A - 11
Mature Height: 10 to 15 ft
Mature Spread: 10 to 15 ft
Growth Rate: Moderate
Availability: Somewhat available
Drought Tolerance: High
Salt Tolerance: Moderate
Light Requirements: Full sun
Native Origin: Not native to North America. Non-invasive.
Soil Drainage: Needs a well-drained site.
Foliage: Evergreen tree with no showy fall color.
Flowers: Red, very showy flowers in spring and summer.
Pests: Free of serious pests and diseases.
Description: Red Bottlebrush perfectly describes this evergreen plant's bright red flower spikes. Hummingbirds love the flowers, and the plant is hardier than most Bottlebrushes. The flowers are followed by small, woody capsules that look like bead bracelets on the bark, and which last for years. Offered as a shrub, Red Bottlebrush can be trained as a tree to 15 feet or espaliered as a quick wall cover. It makes a nice screen or tall unclipped hedge. Pruning to develop several trunks and removing some lower branches can create a fine small specimen tree.
A good choice for a spot offering full sun, it will adapt to a variety of soils. Very drought-tolerant once established, Red Bottlebrush tolerates any soil except very poor, alkaline, or poorly-drained. Fertilize regularly to maintain good flower color and dark green foliage. Suckers from the trunk need to be removed periodically to maintain tree form.
Gainesville Observations: One tree died in our test within the first year after planting. I suspect root defects were the cause since there were some large roots circling close to the trunk at the surface. Trees have flowered nearly year-round and are vigorous growers. They appear well adapted to the area which probably accounts for its current popularity in north Florida landscapes. Our trees came from the nursery in containers and there were some large roots circling the root ball. Without correction, this can adversely affect landscape performance. It will be challenging to train this trees into a street tree due to the weeping nature of the twigs and branches.