Project-At-A-Glance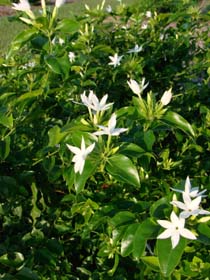 The objective of this project was to determine how best to irrigate shrubs during establishment in Florida landscapes. This three part project was executed from 2003 through 2009 at four locations in Florida (Ft. Lauderdale, Tampa Bay, Apopka and Citra, Florida). Locations represented three water management districts and most climatic zones in the state.
A preliminary study, conducted before the larger project, established an appropriate volume for irrigation during establishment. Phase one established an effective irrigation frequency for shrub establishment in the landscape in three hardiness zones in Florida using the irrigation volume established in the preliminary phase of the project. Additionally, phase one examined when regular irrigation could be discontinued for establishing shrubs based on the ratio of root spread to canopy spread. Once shrubs reached a root spread to canopy spread ratio of 1.0, irrigation could be discontinued under normal rainfall conditions. Phase two tested the effectiveness of the irrigation frequency established in phase one on 12 additional shrub species in the landscape; six native and six non-native shrub species at each of the three locations in the state. Additionally, phase two verified the point at which regular irrigation could be discontinued for establishing for 3-gallon shrubs under normal rainfall conditions in the Florida landscape. An additional study conducted under a rain shelter evaluated the effectiveness of the established irrigation volume and frequencies when rain fall was eliminated as a variable.
Results of this 6-year study will help guide development of irrigation guidelines for newly planted and establishing Florida landscapes.