How much is enough? ...less than you think!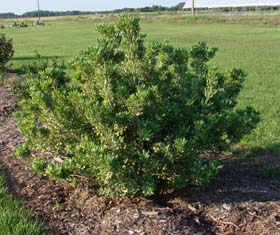 Florida's drought conditions continue throughout much of the state. As Florida's population continues to grow, water use is an increasing concern. Water management districts have taken the first steps to curb unnecessary use by regulating irrigation frequency and duration.
Landscape irrigation is a big draw on Florida's water supply. In an effort to base future water restrictions on sound science, a study was constructed to evaluate the water needs during establishment of the most popular ornamental shrubs in Florida.
Objectives: 1) Determine how much water it takes to establish shrubs in newly developed Florida landscapes. 2) Determine if irrigation is necessary to keep shrubs healthy once they are established.