2007 Snowcap
Graph shows projected plant heights during production of the crop. Dots are plotted actual height each week. Arrows indicate when PGRs are applied with details in the weekly notes. We use the "late" graphical tracking curve and heights are from bench to height of growing tip. Heights are plotted from date of pinching to projected date of finish.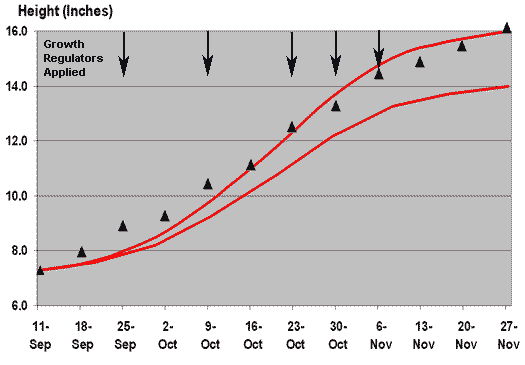 Notes
11/27
Snowcap is a very vigorous variety and it was good that we planted and pinched a week later than other varieties. Finish time is variable in Snowcap crops and the plant selected early as the picture plant is among the latest in this crop. Half of the plants in this crop have 2-4 cyathia with pollen and look very good. The low rate Early Bonzi drench (1/10 ppm) applications work well on this crop as did the late drench at 1 ppm. Looking back we should have used 1/5 ppm on either Oct 23 or 30.
11/20
As our temperatures continue warm, these Snowcap continue to grow some and look like the will average about 16 inches.
11/13
This crop slowed down this week and the plants look good. We are not making another drench, but we need to watch it next week to make sure it does not take off again. The crop looks like most of the plants will be finished on time in 2 weeks.
11/06
We are applying a late Bonzi drench at 1 ppm to these Snowcap. We now expect they will grow 1 to 1.5 more inches.
10/30
In our conditions, Snowcap crops are normally highly variable in timing and this crop ranges from green plants to sizeable bud development. Because of the potential vigor of Snowcap we are again drenching this crop with Bonzi at 1/10 ppm, which will give a little protection against the plants growing too much this next week.
10/23
This crop of Snowcap has taken off again and we are drenching with Bonzi at 1/10 ppm this week. The next 2 weeks will be important for positioning this crop for a late drench that will keep it in our target heights at finish.
10/16
Growth of less than 1 inch is what we needed for this crop of Snowcap. The growing tips look like elongation is still slowed. We are not treating this week, but will probably make another drench next week.
10/09
These plants are acting like Snowcap. They have almost caught up with the Red Velvet even though they were an inch shorter at pinch and pinched a week later. We need to keep this crop growing at less than 1 inch per week for the next 4-5 weeks. We are applying another early Bonzi drench at 1/10 ppm now and will do this again in 1-2 weeks.
10/02
This Snowcap crop responded more than expected to the drench put on last week and part of this is due to the slightly cooler day temperatures. It will be interesting to see where this crop is next week.
9/25
The amount of growth on these Snowcap this past week should not be surprising considering what all other crops are doing. We are applying a Bonzi early drench at 1/10 ppm, which is our low rate (PGR page). We decided to be a little conservative with the rate and will see how the crop responds. We have other Snowcap in research and student crops that were planted earlier than this one and they are being drenched with higher rates.
9/18
These Snowcap are a little above the curve at one week. With this level of vigor, if sprays were being used we would treat this week. But, with our confidence in the drench treatments, we will wait until next week to start applications.
9/11
Snowcap is one of the most vigorous varieties in warm climates and we planted and pinched it a week later than for Prestige Red. In 2004, we used 3 sprays plus a late drench on Snowcap. We will be doing this crop with early Bonzi drench applications (PGR page).