2005 Visions of Grandeur
Graph shows projected plant heights during production of the crop. Dots are plotted actual height each week. Arrows indicate when PGRs are applied with details in the weekly notes. We use the "late" graphical tracking curve and heights are from bench to height of growing tip. Heights are plotted from date of pinching to projected date of finish.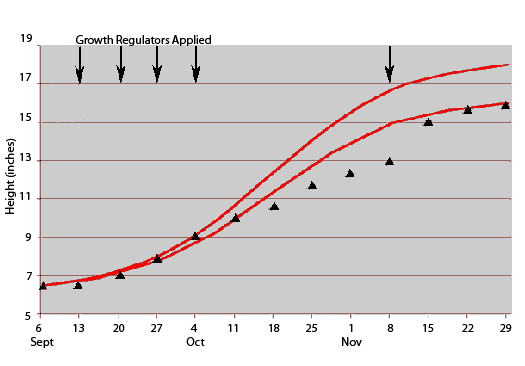 Notes
11/29
Now a week after pollen these Vision's of Grandeur look good with better bract development and more color. The crop's 2 inches of elongation in response to the Fascination was just what was needed for it to finish in the height range we wanted. These plants finished with strong stems, which is very important for this variety. We were fairly aggressive with the early PGR applications and we still feel that is the best approach for this variety. However, we are still learning this variety and the early PGRs were a little too much in a very unusual year where growth from Oct. 25 to Nov. 8 was much slower than normal for all varieties.
11/22
These Vision's of Grandeur are at about the same stage of develop as last year's crop at this time. Pollen is showing on all plants. As characteristic of this variety, however, the first bracts are relatively small and it needs additional bract development time. Also, the peach color does not develop until bracts are more mature. So, this crop will not be ready to sell until next week.
11/15
We got considerably more response to the Fascination than expected and will watch the growth to make sure it does not continue at this rate. This variety produces color late in development. The cyathia will be open next week, but it will take another week before the bracts are fully developed.
11/08
Growth of this year's Visions crop is about half the rate of last year's crop. The plants look like they will finish about an inch short. We are spraying with Fascination at 3 ppm with the idea of getting a little more elongation.
11/01
This is another crop that really reacted to the lower temperatures. We anticipate elongation to pick up this coming week.
10/25
This crop increased in growth this past week and growth rate will likely increase even more this week. Now we just have to wait and see what the crop does. Last year, Visions grew 3 inches over the next 2 weeks.
10/18
The cumulative effect of the PGR sprays is showing in the slower growth rates; however, we expect the growth rate to increase this week.
10/11
Well, after 4 sprays this crop finally slowed down some. The growing tips are not very tight, so it should continue at a good pace.
10/04
This week, we are spraying the Visions of Grandeur for the 4th week in a row; this time with B-Nine/Cycocel at 1,000 ppm each. We are hoping that it will now continue up the growth curve until we probably apply a late drench. This spray is pushing a little past our Oct. 1 cut off for B-Nine because we wanted more control than Cycocel alone would provide.
9/27
We have already made two sprays at our medium rate and the crop is under good control now. We are spraying it with the low (1,000 ppm each) B-Nine/Cycocel rate this week, which will help keep it from growing to much.
9/20
We want to maintain good early control on this vigorous crop, so we are spraying them again with the medium B-Nine/Cycocel (1,500/1,250 ppm).
9/13
Lateral elongation on this crop is much greater than most varieties at one week after the pinch and we want good control of early growth. So, we sprayed the B-Nine/Cycocel medium rate (1,500/1,250 ppm) this week.
9/06
We are going for a nice 16-18" plant with this Visions of Grandeur crop. This is a very vigorous variety in warm climates and we do not want it to get too soft. The first spray will be next week.