2005 Prestige - 6"
Graph shows projected plant heights during production of the crop. Dots are plotted actual height each week. Arrows indicate when PGRs are applied with details in the weekly notes. We use the "late" graphical tracking curve and heights are from bench to height of growing tip. Heights are plotted from date of pinching to projected date of finish.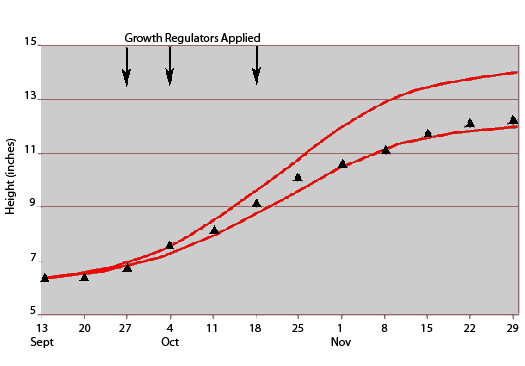 Notes
11/29
Prestige is a very good variety for production of shorter plants in 6-inch pots. It is easy to grow and the plants are strong and look good.
11/22
This Prestige crop is also several days earlier than expected. It looks very good.
11/15
This crop is doing fine and should finish between 12 and 13 inches. It will be salable next week.
11/08
Elongation on this 6" Prestige crop is on track to finish at about 12 inches and a late drench will not be needed. This crop is not showing as much stress as the 6.5" crop.
11/01
This 6-inch Prestige crop slowed down more than the 6.5-inch crop, which was actually good. Now we can wait to do the late drench until after more bract development has occurred.
10/25
A late drench will be needed in 10-14 days depending on what this crop does this next week.
10/18
While this crop is at a good point this week, we are entering a period when it could grow rapidly. We are spraying this week with Cycocel at 1,250 ppm. This should just slow grow a little and be insurance against having to apply a drench too early.
10/11
The terminals on this Prestige are fairly tight indicating that the PGR effect should last at least another week. So, this crop should be in good shape until the late drench, if it is needed.
10/04
Even with last weeks spray, this crop elongated a little more then we wanted. We are spraying this week with B-Nine/Cycocel at the medium rate of 1,500/1,250 ppm. This is an aggressive approach and should significantly reduce elongation. In our climate, Prestige is at the initiation date now and the crop should have plenty of time to grow out of this spray, so it should have little effect on bract size.
9/27
Like the Christmas Feelings 6" crop we know that we will need to use PGRs on this crop and doing it now, while we can still use B-Nine, will help avoid bigger problems later. So we applied a low rate (1,000 ppm each) B-Nine/Cycocel spray this week.
9/20
We will probably spray this crop next week.
9/13
Prestige is a very good strong plant for producing smaller plants. We will be watching to control the typical strong early growth of Prestige. Our last example of a small Prestige plant was in 2002.