2005 Freedom Red
Graph shows projected plant heights during production of the crop. Dots are plotted actual height each week. Arrows indicate when PGRs are applied with details in the weekly notes. We use the "late" graphical tracking curve and heights are from bench to height of growing tip. Heights are plotted from date of pinching to projected date of finish.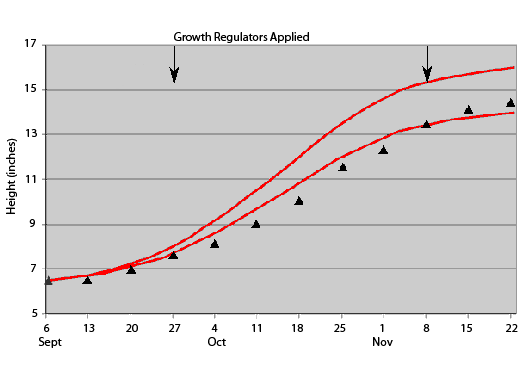 Notes
11/22
This Freedom crop has worked out well. It has been a relatively short year in most of our crops, and we have used less PGR on these Freedom than expected. The late drench was very effective and the crop looks good.
11/15
The drench applied last week is controlling elongation and this crop should finish in the bottom half of the desired heights. Pollen is showing on about 25% of this crop and it is salable now. However, the plants will look much better next week when they are completely developed.
11/08
For Freedom with only one early spray, growth of this crop is less than expected. If we do not apply a late drench, final height will be about 16 inches, but we prefer for the crop to finish closer to 15 inches. So, we are applying Bonzi at 1 ppm this week.
11/01
Our temperatures were much cooler this past week and the effect can be seen in the growth of this Freedom crop. This coming week will be warmer and elongation should increase.
10/25
This Freedom crop is showing color now. The growth this week was a little more than we wanted, but not too surprising for Freedom. We want to apply the late drench when they are between 13 and 14 inches and prefer to wait until Nov. 1. We will look at this crop at end of this week and apply the drench then if they are growing too fast.
10/18
This crop is in good shape now. First color is showing on some of the plants, which is about on schedule. Unless something unusual occurs, we anticipate applying a late drench on Nov. 1 or 8.
10/11
These plants are just about where we want them at this stage. However, the shoot tips look like elongation will increase and they may grow as much as 1.5 inches this week.
10/04
We anticipate that this Freedom crop will stay just below the curve now for the next 2-3 weeks.
9/27
Our objective is to have Freedom below the graph at the end of Oct., so we applied the low B-Nine/Cycocel rate (1,000 ppm each). We will see how the crop response and will make another application in 1-2 weeks if needed.
9/20
The Freedom are doing fine for now. We expect to make the first PGR spray next week.
9/13
This Freedom crop is starting to grow nicely and now we will see what it does the next couple of weeks.
9/06
We plant to make 1-3 early sprays on Freedom Red depending on how it is growing with the objective of having it slightly below the curve around Oct. 18. Then we will plan to make a late drench about the first week of Nov.