2005 Autumn Red
Graph shows projected plant heights during production of the crop. Dots are plotted actual height each week. Arrows indicate when PGRs are applied with details in the weekly notes. We use the "late" graphical tracking curve and heights are from bench to height of growing tip. Heights are plotted from date of pinching to projected date of finish.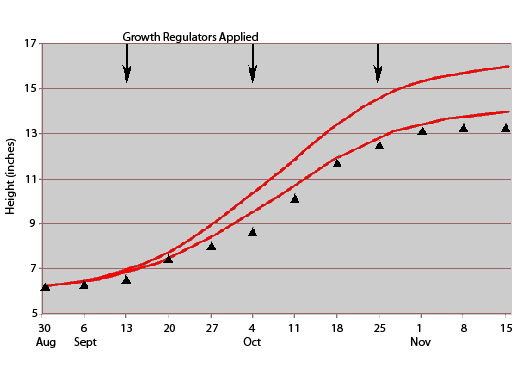 Notes
11/15
This crop finished just a little short, but the two Fascination sprays probably added 1.5 to 2 inches to the final height. From this crop and other research, we now know that Autumn Red initiates very early and the crop should have been planted at least a week earlier. Autumn Red is not really a low vigor variety when adequate vegetative time is provided.
11/08
About 75% of this Autumn Red crop is showing pollen. While the crop could be sold now, the plants will look better with 4-5 more days of development.
11/01
With the much cooler weather this past week most crops slowed down. So, it was good that we used the Fascination last week. This crop will be finished by next week.
10/25
These plants will be finished in 2 weeks and we need about 2 inches of growth on them. They may do that on their own, but we are applying Fascination at 3 ppm this week to give a little stimulation.
10/18
These plants grew about one inch this past week and we need them to do that for three more weeks. We will see where they are next week and make a another Fascination spray, if needed.
10/11
This Autumn Red crop was headed for being too short, but they grew about 1.5 inches this past week after the 3-ppm Fascination spray. We will wait another week to see if an additional spray is needed.
10/04
Most of this crop is now showing first color, which means they initiated earlier than we wanted and will likely finish shorter than desired. We sprayed the plants this week with Fascination at 3 ppm to promote elongation. A Fascination spray at this time may also slow development some. Depending on how the crop responds one or two more Fascination sprays may be needed. Please see the Fascination supplemental label for information on this technique.
9/27
The Autumn Red is below the curve now, and we will just have to wait and see how it develops the next few weeks.
9/20
We had to make a decision on this Autumn Red crop. Because of the amount of elongation this past week and the appearance of the plants, we would normally spray again this week. An objective with this crop is to not put on too much PGR in case of early initiation, so we decided not to spray this week. However, with the high temperatures we are having it probably is not initiating early and will be above the line next week.
9/13
The Autumn Red laterals look like they should take off this coming week. We are spraying with the low rate (1,000/1,000 ppm) of B-Nine/Cycocel. We do not want to be too strong with the PGR because we could end up with short plants if it initiates early.
9/06
We will watch to see how this crop grows the next couple of weeks.
8/30
Autumn Red flowers early and likely will be finished a few days ahead of our Nov. 15 date. Because of the early finish we have planted and pinched a week earlier then Freedom to give it enough vegetative time to develop a strong plant. Autumn Red should not stretch near the end.